Date/Time
Saturday 27 Sep 2014 to Sunday 28 Sep 2014

Location
Queensland Multicultural Centre
Cost: (includes morning & afternoon tea) :
Both days: $40       Single day: $25
Booking & Programme Details:
SATURDAY 27 SEPTEMBER 2014 
9:00 am Welcome and Introductory talk: Dr Graham Bruce, President, The Wagner Society in Queensland Inc.
9:30 am Lohengrin Act II (1 hr 25 mins) Bayreuth 1982. Nelsson/Friedrich, Roar, Connell, Armstrong, Hofmann, Vogel.
11:00 am Refreshments in foyer
11:30 am Introductory talk: Peter Bassett
12:00 pm Die Walküre Act I (1 hr 10 min) Metropolitan Opera 2011. Levine/Lepage, Kaufmann, Westbroek, König
1:10 pm Lunch break
2:30 pm Introductory talk: Dr Graham Bruce
3:00 pm Tristan und Isolde Act II (1 hr 20 mins) Bayreuth 1983. Barenboim/Ponnelle, Meier, Schwarz, Kollo, Becht, Schunk, Salminen
4:20 pm Refreshments in foyer
SUNDAY 28 SEPTEMBER 2014
9:00 am Introductory short DVD.
9:30 am     Die Meistersinger von Nürnberg Act I  (1 hr 25 mins) Glyndebourne Festival 2011.  Jurowski/McVicar, Finley, Jentzsch, Kranzle, Miles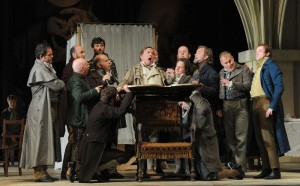 11:00 am     Refreshments in foyer
11:30 am     Introductory talk.  Peter Bassett
12:00           Götterdämmerung Act II  (1 hr 10 mins) Bayreuth 1980.  Boulez/Chéreau, Becht, Hübner, Jung, Altmeyer, Mazura, Jones
1:10 pm     Lunch
2:30 pm     Introductory short DVD
3:00 pm     Parsifal Act III  (1 hr 20 mins) Metropolitan Opera 1993.  Levine/Schenk, Moll, Meier, Jerusalem, Weikl
4:20 pm     Refreshments in foyer
SPEAKERS
Dr Graham Bruce retired some years ago as Head of Media Studies in the School of Media and Journalism at Queensland University of Technology. He has an MA and a PhD from the Tisch School of the Arts at New York University. He is the author of Bernard Hermann: Film Music and Narrative and Alma Brasileira: Music in the films of Glauber Rocha in Brazilian Cinema. From the mid-70s he has made 7 visits to Bayreuth, beginning with the premiere of the Chéreau Ring in 1976 and has so far clocked up 28 Ring performances throughout the world. He is particularly interested in stage production, something fostered by his participation in a theatrical group producing musicals in the late 50s and 60s.
Peter Bassett has been speaking and writing about Wagner's works for more than four decades, and is well known to audiences of the Ring cycles performed in Adelaide in 1998 and 2004 and Parsifal in 2001 with which he was involved in various capacities. Peter has now recorded his Ring talks for Decca on four CDs entitled Der Ring des Nibelungen – Explorations. Since 2001 he has led more than 30 opera tours on five continents. He has published five books on Wagner's works, the most recent being   1813 – Wagner and Verdi. He is now working on a PhD at the Queensland Conservatorium, Griffith University on the Adelaide 'Wagner decade' 1995 – 2005.
BOOKING:
1. Either download here: Great Wagner Productions Weekend Booking Form print & post to The Treasurer, PO Box 1139, Kenmore, Qld 4069 – or –
2. Complete & submit form below
PAYMENT:
1. By cheque payable to The Wagner Society in Queensland Inc. posted with booking form as above – or –
2. By EFT to Suncorp: BSB 484 799  a/c no: 04233 8386   a/c name:  The Wagner Society in Queensland Inc.
Please ensure  you use your surname as the reference and confirm details of *name/s, contact etc. by email to Treasurer when transfer made at: theobaer@bigpond.com