In 2021, the Wagner Society in Queensland Encouragement Award was awarded to Conservatorium student bass Vikram Goonawardena.
Each year, our Society offers an Encouragement Award valued at $1,000 to a current tertiary student who, through performance in a major or minor role in a Conservatorium Opera Production, best demonstrates vocal potential for a future career in large scale romantic operas in the style of Richard Wagner or Richard Strauss. If, in a particular year, no candidate satisfies these criteria, then the Encouragement Award is not given.
The adjudicators are Heads of the Vocal and Opera Departments of the Conservatorium and all producers of opera programs during the year. A decision is made during the end-of-year examinations period. The Queensland Conservatorium Griffith University is responsible for the administration of the Award.
This Encouragement Award is separate from all other awards, grants and donations provided by the Wagner Society in Queensland.
Vikram Goonawardena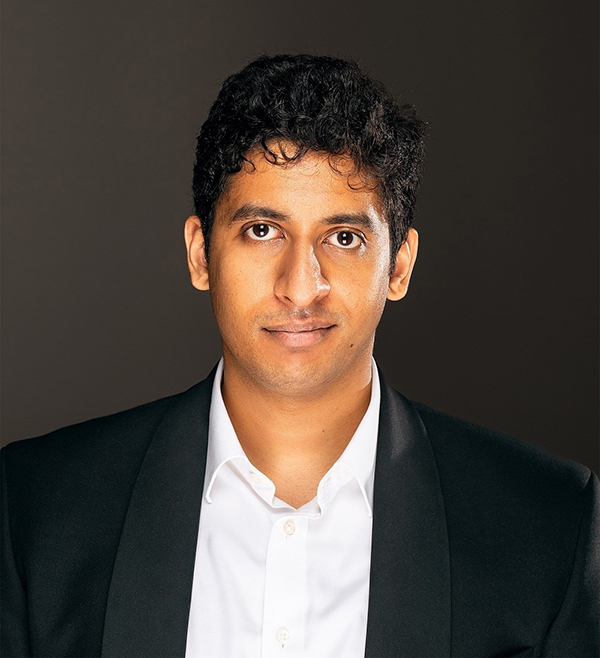 Vikram is an Australian dramatic bass opera singer currently studying at the Queensland Conservatorium under the tutelage of Associate Professor Margaret Schindler.
As a child he attended some courses at Young Con, however this came to an end after only a couple of years. No significant music was made until his return to Australia in 2015. While studying physics at the University of Queensland Vikram joined the Queensland University Musical Society in aid of reconnecting to music, although the intention was to engage merely as a hobby. After a few months, a larger challenge was required, and he went to the School of Music and spoke with Dr Graeme Morton who recommended he join the UQ Chorale and therefore concurrently completing a diploma of music performance. Soon after joining the chorale Vikram joined the UQ Chamber Singers. At the end of the academic year Dr Morton forwarded Vikram on to the St John's Cathedral Singers and subsequently the Cathedral Choir as a lay clerk.
While working at the Queensland Department of Health as a physicist, Vikram was also working for St John's Cathedral in the Cathedral Singers and Cathedral Choir, as well as the St Stephen's Schola. It was around this time, 2017, when he began singing lessons with Ms Ireni Utley. This was also the time when he met the other founding members of the vocal ensemble Lucis. Lucis specialises in early music but has performed many different works including but not limited to the Rachmaninov All Night Vigil (vespers), Monteverdi Missa a Quattro Voci, Gesualdo Madrigale a Cinque Voci (libro cinque), as well as many original works especially by local composers including winner of the Wagner Society's 2013 Bicentenary Competition for Composers, John Rotar (Stella Caeli Extirpavit), Amber Evans (To the Evening Star), Tomasz Holownia (Mass in the Dorian Mode), and Graeme Morton (Crossing the Bar). Being a member of a small ensemble was and is invaluable in developing Vikram's musicianship, exposure to a broad variety of composers, musicians, and genres.
In 2018 Associate Professor Margaret Schindler recommended that Vikram apply to the Queensland Conservatorium to enrol in the Bachelor of Music, Classical Voice program.
Vikram's opera roles so far include Simone from Puccini's Gianni Schicchi, Don Pedro from Berlioz's Béatrice et Bénédict, and Carl Olsen from Weill's Street Scene, as well as being a chorus member for university and professional productions including Henry Purcell's Dido and Aeneas, Handel's Messiah, the Bach Mass in B minor, and Giuseppe Verdi's Requiem. He has won the Conservatorium's Elizabeth Muir award, for the highest marks in a first years' recital, and the Wagner Society in Queensland Encouragement Award. He was also selected as an artist in the Lisa Gasteen National Opera Program in 2021. Vikram is continuing his opera performances in 2022 in Conservatorium productions, as well as in some private productions and concerts, including with Voxalis.