Saturday 28 May 2016 at 3:00 pm to 5:00 pm
This will be a screening in a private home.
Covent Garden production staged at Proms July 2005.
May 14: Act 1
May 21: Act 2
May 28: Act 3
Conductor Antonio Pappano
Cast of Die Walküre includes: Lisa Gasteen, Bryn Terfel, Placido Domingo, Waltraud Meier 
---
Saturday 25 Jun 2016 at 12:00 pm to 2:30 pm
The Society usually celebrates Wagner's birthday with a lunch as close as possible to his date of birth on 22 May.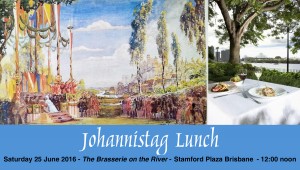 This year, we have had to move our annual function to one which happily coincides with another important German cultural tradition.
Johannistag (also Johannestag, Johanni) is Midsummer's Day in Germany and held on June 24 each year to mark the summer solstice.  It is also commemorates the birthday of John the Baptist.
Please forward completed Booking Form as indicated with a copy to wagnerqld@gmail.com.
---
Sunday 3 Jul 2016 at 2:00 pm to 5:00 pm
In anticipation of Opera Australia's 'Ring Cycle', pianist Alex Raineri and Wagner scholar and author Peter Bassett present a compelling program which explores the world of Richard Wagner through his letters and music, tracing his connections with just a few of his contemporaries and followers.
NB: For this performance, we return to 4MBS.
---
Saturday 9 Jul 2016 at 3:00 pm to 5:30 pm
Presented by Dr Graham Bruce:
Maria Callas as Isolde!
Victoria de Los Angeles as Elizabeth in Tannhäuser!
Renata Tebaldi as Elsa in Lohengrin!
Yes indeed! Many great singers whom we associate with vocal areas for which they became famous….for example, the bel canto operas of Bellini, Donizetti and Rossini; the Puccini, Verdi, and verismo operas….sometimes ventured into the field of Wagner's music dramas, often in the early years of their careers before their repertoires became fixed.
In this session, Graham will examine the careers of Maria Callas, Renata Tebaldi, Victoria de Los Angeles, Elizabeth Schwarzkopf and Montserrat Caballe, concentrating on their brief incursions into Wagner.
Rare recordings, some of them taken from their live performances in Parsifal, Lohengrin, Der Fliegende Holländer, Tannhäuser, and Tristan und Isolde will be played. The recordings will be supplemented by numerous photographs of the respective divas.
Discussion by members as to the success of these singers' Wagnerian incursions will be encouraged.
---
Saturday 13 Aug 2016 at 3:00 pm to 5:30 pm
Presented by Margaret Baker-Genovesi
---
1
2
>