Lisa Gasteen AO – Being Brünnhilde
Visit from the Society's Patron – Saturday 9 September 2017
It was very gracious of the Society's Patron, Lisa Gasteen AO, to discuss with members her wonderful career and what was it like 'Being Brünnhilde'.
As always Lisa was modest and engaging. "Looking back it seems a lifetime ago. I almost don't know that person. I am now in a clear space – no directors, no away from family, no flights, no security screening. I don't really miss it."
Lisa won the BBC Cardiff Singer of the World in 1991 but did not rush into a Wagnerian career although many offers were made at the time. During the next decade she was based in Italy and sang mostly Italian opera. With encouragement from Simone Young, Lisa began preparing to sing roles in Richard Wagner and Richard Strauss operas. She sang her first full Ring Cycle as Brünnhilde in Meiningen, Germany, in 2001 under the sometimes tortuous direction of Christine Mielitz – difficult stage movements and many intense rehearsals.
Great roles and world fame followed, amongst which were Isolde in Melbourne, London and Paris, Sieglinde and Brünnhilde at New York's Metropolitan Opera, and Brünnhilde in Adelaide, Stuttgart, Vienna and London.
Lisa described the sensation of singing the Wagnerian roles. "They summon everything that is primitive, intensely emotional and elemental." We listened to an excerpt from a recording of Lisa's Adelaide Brünnhilde and one could feel the emotional pull in her voice and its power and glory, exquisitely refined.
Lisa gave immense recognition to her singing teacher Margaret Nickson. She was a person whose musical judgment Lisa trusted implicitly.
The Lisa Gasteen National Opera School has been established at the Queensland Conservatorium, Griffith University.
See Wikipedia reference also.
Lisa wants to give aspiring professional singers a bridge between their formal studies and the opera house. Visiting international singers and conductors are also involved with the coaching.
The School's partnership with the Queensland Symphony Orchestra also provides valuable professional experience.
BAYREUTH REVISITED
Saturday 26 August 2017
Members experienced a very interesting afternoon when Graham Bruce, Colin Mackerras and Peter Bassett shared their personal experiences, reminiscences and DVD excerpts of three Wagner productions they had seen at the Bayreuth Festspielhaus.
There was plenty of interaction between our presenters and members present as many had also been to Bayreuth and had seen the productions that were discussed.
Graham showed the final scene of Götterdämmerung from a 1994 Ring production directed by Alfred Kirchner with James Levine conducting. We saw a relatively bare stage, actors/singers standing on a slice of a suggested world globe and the set devoid of any suggestions of time and place. The costumes of fanciful designs were rather exotic and flamboyant. The audience is drawn into the scene to concentrate only on the principals singing onstage – no distraction with sets or 'novel' story lines. The role of Brünnhilde was sung by Deborah Polaski. It reminded me of concepts in the "Amsterdam Ring" directed by Pierre Audi (which is available on DVD). Our members' reactions were somewhat quizzical and caused debate on the quality of Polaski's singing.
Colin presented excerpts from all three acts of Parsifal – the 2012 production directed by Stefan Herheim and the conductor Philippe Jordan. Perhaps Colin was up to some mischief with his selection? This was a very, very controversial production at the time with boos from the Bayreuth audience during the performance, unfurling swastika flags on set and alarming references to German ideology during World War II; those were just some of the reports mentioned in the media. However, as suggested by Colin, one should take a more sophisticated review of this production. Colin admitted it was strange: set in Germany not Spain, as an historical parable (not what Wagner intended), political rather than redemptive and conflict versus compassion. When conflict wins over compassion, the outcome can be disastrous for the individual and country. Was this director, at the expense of deliberately reinterpreting Wagner's directions, showing his audience how music and art can be misappropriated by a crude political ruling class? Graham offered an interesting comment on this production of Parsifal… "Why does one go to plays, music and operas, what is the point if not to be sometimes challenged and newly awakened?"
Peter presented the sublime with an excerpt, a scene from Act 3, from the 1984 production of Die Meistersinger von Nürnberg, directed by Wolfgang Wagner and conducted by Horst Stein. This production was set in a world of historical reality, true to Wagner's thesis that German States need not look outside Germany for reference to a great culture and the search for national self-esteem was already contained within a German nation. The quintet sung by Bernd Weikl (Hans Sachs), Mari Anne Haggander (Eva), Siegfried Jerusalem (Walther von Stolzing), Graham Clark (David) and Marga Schiml (Magdalene) was stunning to hear and see, and left members wanting more…
These meetings are so stimulating and wonderful to be part of. Our presenters Graham, Colin and Peter are very generous to share their knowledge and enthusiasm with members.
Comments by Paul Caesar
PARSIFAL: what does it all mean? – Dr Stephen Emmerson
Saturday 22 July 2017
I was first introduced to Richard Wagner's Parsifal – a concert performance – at a Brisbane Bienniale event in May 1995. The programme notes gave this interpretation of What's it all about?
"Wagner's sacred saga of Christian redemption and the triumph of good over evil is recognised as one of the mightiest achievements of 19th century art. Set in medieval Spain, Parsifal is an epic work depicting the conflict of good and evil, the opposition and eventual reconciliation of the flesh and the spirit, the possibility of redemption and the quest for wisdom and enlightenment."
In another Australian production, State Opera South Australia's of September 2001, their programme notes gave the meaning as:
"The journey of a soul. Wagner uses a medieval legend to explore profound questions from both western and eastern philosophies and religions. The story reflects Parsifal's inner spiritual journey. Through suffering comes compassion. Through compassion, knowledge, love. By reuniting the Spear with the Grail, the King is healed, a state of grace is restored to the community, and Parsifal finds his true place in the world."
Those notes then go on the say: "…subtly leading the audience on their own journey of discovery."
This last line was the thesis that Dr Stephen Emmerson proposed. Whatever Parsifal is all about and whether there is any definitive answer, why insist on one? Its meaning is not static. What Parsifal may mean to someone today may not be what Wagner meant in his day. Has too much knowledge and searching got in its way? Stephen suggests we experience Parsifal as a work-in-progress for each one of us rather than as a conclusion.
Ever since its first performance in 1882 the musical and intellectual world has tried to find explanations for this most complex of Wagner's operas. As Stephen commented, none of these explanations is probably right or wrong, for Parsifal contains elements which can be seen as Masonic, Buddhist, Christian, homoerotic, sexist, racist, oedipal and concerning end-of-life redemption, and that is just a short list. There is something passive about this opera. There is drama between the characters, but Wagner is not concerned about the motives of the characters, he is presenting their emotional response.
"Wagner shows things acting on people but not people acting on things. We see the characters almost entirely from the inside. The opera is emotionally passive and concerns itself with total renunciation." (Bryan Magee: Aspects of Wagner.)
Parsifal is thick with parables, symbols and myths. Is Wagner giving us a sermon about the coming of The End? Are the allusions Wagner's theory on German regeneration? Is it the philosopher Wagner's final essay, that unless one is truly compassionate (the innocent fool), there is no life, only turmoil and no redemption?
Stephen also discussed how the work should not be seen as a finality or a stand-alone composition. Parsifal makes many references to Wagner's previous dramas, namely the innocent fool Siegfried, and Brünnhilde listening to Wotan as Kundry listens to Parsifal. German regeneration is also given expression in Die Meistersinger and the Dutchman finds rest through Senta's love just as Amfortas and Kundry are redeemed through Parsifal's compassion.
Some noteworthy productions were mentioned:
The 2013 Metropolitan Opera production of Francois Girard with Jonas Kaufmann in the title role – available on DVD
Hans Jurgen Syberberg's film version, which can be viewed on YouTube.
Just to turn the Parsifal theories upside down, this is what Nietzsche had to say about this opera:
"Parsifal is a work of perfidy, of vindictiveness, of a secret attempt to poison the presuppositions of life – a bad work … I despise everyone who does not experience Parsifal as an attempted assassination of basic ethics."
Stephen's keyboard illustrations were enjoyed; they give us a few bars to observe when hearing this marvellous opera. Members of the Society attending Sydney Symphony Orchestra's concert performances in August 2017 will appreciate this 'before-concert preparation'.
So what is it all about? Stephen's conclusion is that there is no single meaning; there are many and all sorts of things that pass through this opera Parsifal. The work provokes each of us personally, to find what it means in our current world. The myths, parables and symbols that Wagner uses illuminate our individual human experiences, that thereby, have a universal relevance.
Paul Caesar
RECITAL – 2016 Encouragement Award Winner – Anastasia Bickel
Saturday 24 June 2017
It was a wonderful experience for Wagner Society members to hear a recital by our 2016 Encouragement Award Winner, Mezzo Soprano/Contralto Anastasia Bickel.
Anastasia's programme included:
Gluck "Ahime! Dove trascorsi? ….. Che faro senza Euridice?" from Samson et Dalila,
Elgar "Sea Slumber Song" and "The Swimmer" from Sea Pictures,
Wagner Erda's aria from Das Rheingold
Tchaikovsky Joan of Arc's aria from TheMaid of Orleans
Her strong, clear and musical voice gave us inspiration that we were listening to a future opera diva. Congratulations to Anastasia for her great achievements so far. She graduated with a Bachelor of Music in Classical Voice (Advanced Performance) from the Queensland Conservatorium Griffith University in 2015 and has performed professionally throughout Australia in oratorios, operatic performances and music festivals. In July 2017 Anastasia is an Australian representative in the final rounds of the Belvedere International Singing Competition (Moscow). Recently she was a prize winner in the National Liederfest (Melbourne).
After Moscow, Anastasia will commence a two-year position as a young artist in the prestigious OperAvenir programme at the Theater Basel, Switzerland.
Anastasia's piano accompanist was Mark Connors, also a graduate of Queensland Conservatorium. Mark has been working professionally as an accompanist and repetiteur.
The Wagnerians in the audience were delighted when Anastasia sang Erda's warning to Wotan from Das Rheingold. We hope to hear more!
One song that Anastasia gave filled the room with emotion – Joan of Arc's aria (words by Schiller). It was beautifully sung and like Joan, Anastasia is leaving her Australian home and family to pursue her career and love of singing. Members wish Anastasia great joy and great success.
"Yes, tis time!
Yoanna must obey the divine will.
But why is fear creeping into my soul?
My heart is aching so painfully!
Forgive me hills, beloved fields;
Welcoming, peaceful, bright valley, forgive me!
Yoanna will not be seeing you again,
Forever she says her farewell!
My friendly fields, my trees, my loved ones,
Without me you will be blossoming and fading!
Oh my cool caves, my speedy currents,
I am leaving you and will never be back again!
These places where everything was healing,
You will be parted with me forever more;
My flocks, I won't guard you anymore,
You will be lost without faithful pastor.
I was destined to lead a different crowd
Along the fields of a murderous war
That is what divine will has chosen,
And I am not driven by futile desires!
Oh God my heart is opening to you!
It's sorrowful and suffering.
Of course, for Anastasia, Wagner Society members and an Australian audience will look forward to her triumphant return.
PROVOCATIVE PRODUCTIONS! – Dr Graham Bruce and Dr Peter Bassett
Saturday 22 April 2017
On 22 April, our Vice-President Graham Bruce once again illustrated "different" approaches to the on-going question of how to present Wagner operas on stage, long after the death of their creator, who had had his very precise ideas on the subject.
At the outset, Graham addressed the question of what is now called Regietheater – the German term for opera productions envisaged from the point of view of the stage director rather than the conductor (let alone the composer.)
Over the last, say, forty years and increasingly since the ground-breaking Bayreuth Ring of 1976, it has been the stage director who has had an ever more dictatorial say about how operas are presented. Graham alluded to an increasing self-indulgence on the part of the stage directors, who more and more often are also their own set/costume designers, and under whose direction the singers more-or-less have to adapt their interpretation of their roles.

We witnessed a perfect example of this with a part of Act III of Tannhäuser, in which, thanks to Kasper Holten (2009), Tannhäuser is seen as a poet who did not do things, but who just wrote about them. His over-excited account (a tireless Stig Andersen) of Tannhäuser's pilgrimage to Rome – the crux of the entire opera: transgression and Christian redemption – made it clear that according to this concept, it quite simply did not happen. The poet merely recited his writings, while Wolfram looked more and more perplexed. This was indeed a Provocative Production! [Image: Kasper Holten – Wagneropera.net – Interview re Tannhäuser]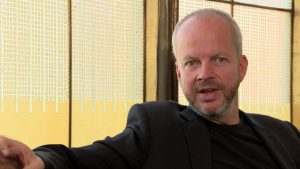 We then moved to a more concrete vision, with Klaus Guth's production (inauguration of La Scala, 2013) of Lohengrin, presented by our President, Peter Bassett. From my personal point of view, it was a relief to see two beautiful persons acting, living, a love story (though doomed, as we know). The production, for some reason, led us in Act III to the banks of the Scheldt, where Lohengrin (Jonas Kaufmann in splendid form) and Elsa playfully threw water at each other. (As a singer, I wonder how much these rehearsals were responsible for both the singers cast as Elsa to fall sick, necessitating the last-minute jump-in of a third soprano, the remarkable Annette Dasch.)
[Image: Staatsoper im Schiller Theater – YouTube interview]
Since the excerpt presented was not accompanied by surtitles, Peter Bassett took us through what was going to happen in this scene, enabling those unfamiliar with the text to appreciate to the full the unfolding drama.
After these two excerpts, those present were invited to take part in a discussion with Graham and Peter. One of our new members, Robert Sanderson, had been present at the recent revival of this production in Paris, and was able to give us a most interesting and up to date report.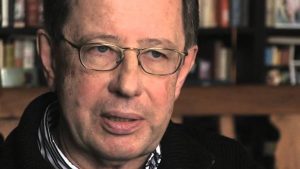 So, after a tea-break, back a few years to Nikolaus Lehnhoff's Glyndebourne production (2007) of Tristan und Isolde, with the Act II duet and Brangäne's warning (with a marvellous Katarina Karneus). Nina Stemme and Robert Gambill were presented in a simple set of stage-wide, stage-high concentric (incomplete) circles, where they, as the saying goes, just stood there and sang (or perhaps sat there and sang). But it was totally convincing – for what on earth should these lovers do, otherwise? The concept of darkness v. light, so central to this dialogue, was brilliantly presented while hated Day approached. [Nikolaus Lehnhoff über Richard Wagners "Ring des Nibelungen" YouTube]
Finally, we saw a great moment from Harry Kupfer's staging (Berlin, 1992) of a pivotal scene from Act II of Parsifal. As Graham explained, it is notoriously difficult to stage the scene with the Flowermaidens – in this concept it was inextricably linked to the technology of the time, and the singers were seen by Parsifal via a series of TV screens; Poul Elming responded brilliantly to this difficult interaction. Then came the great moment of Kundry's seduction scene, with the sublime Waltraud Meyer, and all else was forgotten. Here, once again, Peter Bassett made up for the absence of surtitles with a detailed description of what we were about to see. [Harry Kupfer – Foto DPA – Der Tagespiegel]
Thank you, Graham and Peter, for sharing your seemingly inexhaustible collection with us. (Not all of Graham's DVDs are commercially available, so they are all the more appreciated.)
There followed a discussion and observations that included Nietzsche's relationship with Wagner – we are a cultured lot, you'll agree!
A great afternoon, thank you Graham and Peter, and a sincere thank you also to Jennette, who provided us with programs detailing the productions and their interpreters.
Margaret Baker-Genovesi
888888888888888888888888888888888888888888888888888888888888
WAGNER AND GLUCK – Prof. Michael Ewans
Saturday, 25th March 2017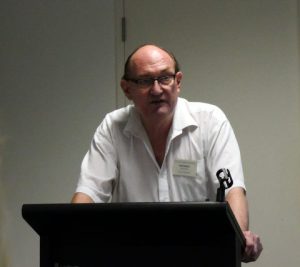 Michael Ewans retired from the Chair of Drama at the University of Newcastle, Australia, in 2011 and is now Conjoint Professor in the School of Humanities and Social Science there.
He has recently published an article* on Pierre Audi's 2011 double bill production of Gluck's two 'Iphigénie operas' in Amsterdam.
In a most interesting and illuminating lecture, Prof. Ewans coupled two great composers whom I, in my ignorance, had thought of as having had in common only the fact that each in his epoch was a trailblazer. No, what we learned was the intimate knowledge Wagner had of his predecessor, whose music he not only championed during his post as Kapellmeister in Dresden, but whose works he re-translated, re-wrote in part, and re-orchestrated – and, as we subsequently heard, sublimely.
* [Gluck the modernist: Pierre Audi's production of the Iphigénie operas]
I speak for myself when admitting I had had no previous knowledge of Iphigénie en Aulide (1774). I was familiar with the later Iphigénie en Tauride (1779), which had a splendid production at the Met a few years ago, with Susan Graham as Iphigénie, Matthew Polenzani as Pylade, and a somewhat improbable Placido Domingo as Oreste.
The earlier of these two 'Greek' operas, was – to quote Prof. Ewans's words – 'the only stage work by any other composer which Wagner ever thought worthy of adapting for performance under his baton'; it contained some magnificent roles, and Prof. Ewans drew parallels with father-child relationships in the Gluck opera and Die Walküre.
We heard, in the historic 1976 Bayreuth version directed by Patrice Chéreau, the great Donald McIntyre, with Wotan's Act II monologue, and subsequently Agamemnon's passionate scene from Iphigénie en Aulide, with a remarkable Nicolas Testé in a performance from Amsterdam directed by Pierre Audi.
Both these larger-than-life characters – one a god, the other a godlike king – are shown at the mercy of fate; they were helpless to save their children, in one case Siegmund, in the other Iphigénie.
Prof. Ewans, who has written extensively on this subject, included extracts that showcased Wagner's directions for the staging of the earlier opera. Having re-translated into German a libretto he found inadequate, and having re-orchestrated the score, Wagner then proceeded to give extremely precise directions regarding the staging, and, most importantly, provided a completely new ending, substituting for Gluck's Happy End, with the marriage of Iphigénie and Achilles, the far more dramatic intervention of the goddess Diana (Wagner prefers the Greek name, Artemis), who abducts Iphigénie and installs her as her priestess in Tauris, which will, of course, provide the subject for Gluck's subsequent Iphigénie en Tauride.
Prof. Ewans distributed several extremely helpful pages to illustrate his talk – one showing how Wagner had had to adapt the original French rhythm to the German translation (inter alia, abolishing the tenor's high A – one wonders if the singer he had in Dresden was not up to it?).
We were also given copious notes regarding the French and German versions of scenes from Iphigénie en Aulide; all the DVD extracts shown were complete with English surtitles.
All present ­ enthusiastically received the lecture – it was a highly enjoyable and enlightening afternoon.
Dr Graham Bruce thanked Prof. Ewans on behalf of everyone there.
Margaret Baker Genovesi
888888888888888888888888888888888888888888888888888888888888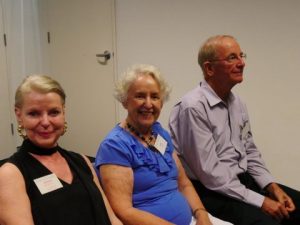 888888888888888888888888888888888888888888888888888888888888

Study Day – Richard Wagner in Switzerland
25 February 2017

Is there any truth in the rumour that our Wagner Society members are booking tours to Switzerland following the wonderful "Richard Wagner in Switzerland" study day?
Peter Bassett and Graham Bruce gave members interesting and exciting presentations on Wagner's sojourn in Switzerland.
Chronologically, this is how Wagner spent his time in Switzerland:
1849: he was involved in the Dresden uprising and fled to Zurich in exile ­– he was 36 years old; 1852: completed the text of the cycle Der Ringdes Nibelungen; 1853–1854: began composing the music for Das Rheingold following this immediately 1854–1856 with Die Walküre; 1856: put his composition on Siegfried aside and concentrated on Tristan und Isolde; became an adherent of Schopenhauer and the music rather than the drama evolves as a more commanding role in his operas.
Wagner becomes inspired by and infatuated with the poet-writer Mathilde Wesendonck. From 1853 onwards the Wesendoncks financially supported Wagner in Zurich and in 1857 placed a cottage on their estate at Wagner's disposal. He composed the Wesendonck Lieder; his marriage with Minna broke up and Wagner left for Venice alone in 1858. He returned to Paris in 1859 and experiences unsuccessful production of Tannhäuser.
In 1862 the political ban that had been placed on Wagner in Germany after he had fled Dresden is lifted and he settles near Wiesbaden on the Rhine and begins work on Die Meistersinger von Nürnberg.
In 1864 King Ludwig II succeeded to the throne of Bavaria. He had a passionate personal adoration of Wagner's operas and settled Wagner's considerable debts. Wagner became involved with Cosima, wife of the conductor Hans von Bülow and daughter of Franz Liszt.
In 1865 the affair with Cosima scandalised Munich and leading members of the King's court, suspicious of Wagner's influence over Ludwig, forced Wagner to leave Munich. The King assisted Wagner to reside at Villa Tribschen beside Switzerland's Lake Lucerne.
Minna died in 1866. Wagner lived with Cosima in Luzern and after the birth of Eva and Siegfried, Hans von Bülow agreed to a divorce and Wagner and Cosima married in 1870.
On Christmas day 1870 Wagner arranged a surprise performance of the Siegfried Idyll for Cosima. In this new-found domesticity, Wagner completed the Ring Cycle. In 1871, the Wagners moved to Bayreuth.
Members enjoyed some lavishly brilliant illustrations found by Peter and Graham, with photographs (taken recently by Graham) of places and buildings where Wagner stayed, where he mixed with the local artistic groups and where he went for his very Germanic-style hiking trips.
The excerpts from opera were just great, particularly Waltraud Meier and Ian Storey in Patrice Chereau's La Scala production of Tristan und Isolde.
We were all were left gasping at the beauty of the Lied Mignon, another musical birthday gift for Cosima from Richard Wagner.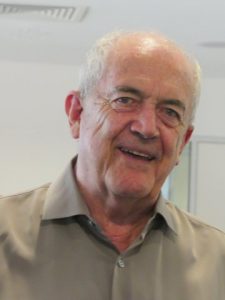 8888888888888888888888888888888888888888888888888888888
Christmas Lunch – Saturday 17 December 2016
As one member summed it up:
The private room at Nantucket Kitchen was a delightful venue, very convenient for public transport. The staff handled our large group with ease, and it was evident a lot of care and attention had gone into our menu and the presentation of the food, which was delicious and plentiful. I felt the luncheon was exceptionally good value, and the atmosphere at Nantucket and abundance of food helped make the event such an enjoyable one.'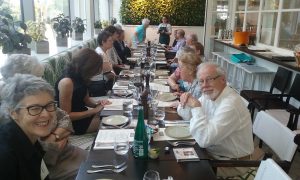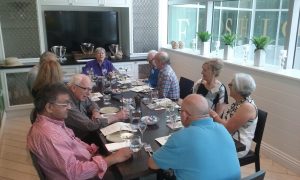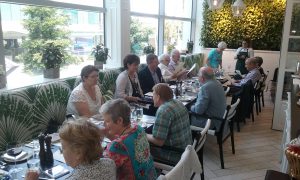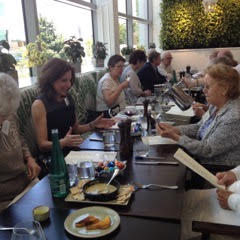 AGM and screening of Das Rheingold – Saturday 12 November 2016
A recording of the TV broadcast of a 2004 performance Das Rheingold at the Royal Opera House Covent Garden followed the AGM. I think there was some eager anticipation amongst members to watch this recording, and why not? It had Keith Warner's staging (a well-known theatre director, also renowned as a flamboyant director of Wagner operas), conductor Antonio Pappano, Bryn Terfel's debut in the role of Wotan and lots of ROH money and pride riding on the success of the whole Cycle.
The singers' performances were generally high standard. Terfel did not disappoint; his singing and acting effortlessly authoritative, lovely tone and colour. In the final scenes he just dominated the stage and was the story. One review of this performance I read said "whenever Terfel is singing everything else onstage ceases to matter". Gunther von Kannen as Alberich and Phillip Langridge as Loge were superb. Pappano led outstanding orchestral playing – this was a treat and allowed some of the production "weirdness" bearable – close your eyes and just listen to the singing and orchestral
playing.
The production itself was problematic. The cluttered sets worked against the drama; much too dark lighting. Why do some directors think that practically every detail of the drama has to be over-explained to the audience? We can, and like to think for ourselves. In this production, one is frequently asking, "What is going on?" and "Why did he do that?" and I found this production and direction from Keith Warner distracting.
The Nibelungen scene for me was just plain "Eurotrash". Warner also has, too often, a predilection for sexual crudity.
For me, singing and orchestra great, production feeble and hobbled by over-information and symbol-heavy staging.
The Adelaide Rings and Parsifal
Presentation by Dr Peter Bassett – Saturday 29 October 2016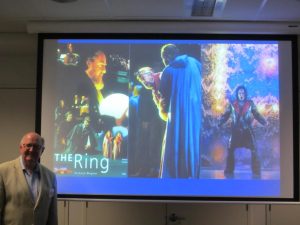 See this link for Paul Caesar's notes
Gustav Mahler's Das Lied von der Erde ('Song of the Earth')
Presentation by Professor Colin Mackerras – Saturday September 24 2016
Our Society member Professor Colin Mackerras AO, gave a passionate presentation on Gustav Mahler's Das Lied von der Erde.
Mahler composed this work following a most tragic and painful period in his life. Personal disasters befell Mahler during 1907 – political manoeuvring and anti-Semitism forced him to resign from his post as Director of the Vienna Court Opera, his eldest daughter Maria died and Mahler himself was diagnosed with a congenital heart defect. Mahler wrote to his friend, the conductor Bruno Walter, "With one stroke I have lost everything I have gained in terms of who I thought I was, and have to learn my first steps again like a newborn".
It was while in this state of emotional turmoil that Mahler was given a copy of Hans Bethge's (German poet 1876- 1946) Die Chinesische Flöte (The Chinese Flute), a volume of ancient Chinese poetry translated into German. Mahler was gloomy and thinking about death at this time and was very taken by the vision of earthly beauty and transience expressed in these verses and chose seven of the poems to set to music as Das Lied von der Erde.
Composed between 1908 and 1909, it comprises six songs for two singers – tenor and alto or tenor and baritone. The songs address themes such as those of living, parting and salvation. Mahler arranged Das Lied von der Erde in a compositional form that gives a complete, large-scale integration of song cycle and symphony. He had already included movements for voice and orchestra in his Second, Third, Fourth and Eighth Symphonies. However, Das Lied von der Erde was complete integration, a new compositional form termed a 'song-symphony'. This form was afterwards imitated by other composers, notably Shostakovich. It was also the deeply superstitious Mahler's attempt to cheat fate – the curse of the ninth – by not giving this symphonic composition the numbering 'Ninth Symphony'. He did ultimately compose a Ninth and an unfinished Tenth.
Colin chose wonderful, historic illustrations of the six movements. For Movement Two, 'The Lonely One in Autumn', we heard the lovely, mature voice of Dietrich Fischer-Diskau (baritone) with the Vienna Philharmonic Orchestra conducted by Leonard Bernstein. Bernstein described Das Lied von der Erde as Mahler's 'Greatest Symphony'.
For Movement Six, 'The Farewell', Colin chose Kathleen Ferrier (contralto) also with the Vienna Philharmonic on this occasion conducted by Bruno Walter. The final poem is very special. Evening has arrived and nature comes to rest, a poet awaits an overdue friend to bid a final farewell. After a leisurely interlude, the friend arrives to say that he is travelling for the last time. The final lines are by Mahler himself, ending the work on a deeply personal and indescribably moving note – a perfect blend of hope and resignation, of yearning and peace, of completion and renewal, of faith in eternity tinged by the knowledge that soon he would take his leave:
'My heart is still and awaits its hour!
You, the dear earth, blossom everywhere in spring, becoming green anew!
Everywhere and forever there is blue shining in the distance,
Forever, forever, forever.'
Explained by Colin, the studio recording he played of the 'The Farewell' had extraordinary poignancy. Kathleen Ferrier, who was fatally ill at the time, invested her part with an exceptional degree of personal identification; she expressed profound understanding in her performance. Walter wrote of this collaboration, "one of the most significant encounters of my artistic life".
Colin's presentation was deeply personal. Bruno Walter called Das Lied von der Erde perhaps the most personal work in music. Members greatly appreciated the afternoon.
A reflection by Paul Caesar
Gustav Mahler 1860-1911: From The Youth's Magic Horn to the New Century
Presented by Margaret Baker-Genovesi
Saturday 13 August 2016
Trying to find out more about Mahler I came across the following comment: "The musical canon has always been determined less by audiences than by performers – they keep playing what fascinates them most, giving listeners the time to catch on." (Author-pianist Charles Rosen.)
Thank you Margaret for your afternoon with Mahler's Lieder; this is the second time your personal fascination and love of a particular composer's vocal work (previously Richard Strauss) has opened my ears and allowed me to 'catch on'.
Before playing us a series of Mahler songs, Margaret discussed Mahler the man; and such a remarkable man. Although he is perhaps best known for his huge symphonic output, from his earliest years he showed an abiding interest in the human voice and poetry. Mahler was in his late twenties when he came across the book Des Knaben Wunderhorn (The Youth's Magic Horn), an anthology of hundreds of old German songs edited by Achim von Arnim and Clemens Brentano. The poems are dizzyingly different in style, subject matter, tone and verse structure. Mahler tapped into the underlying spirit that united them and over a period of about ten years gave life to a musical genre which before was not very widely employed: the ballad-like, humorous piano and orchestra Lied. These themes and Lieder scores also found their way into his symphonic compositions.
(Sculpted portrait by Dan Lake, a Rumanian refugee who now lives outside Lismore)
Mahler did not intend the Lieder from Des Knaben Wunderhorn to be a song cycle. They are very separated not only by the time of their creation but also their different styles. They are basically ballads requiring a narrator who sometimes comments from a distance, sometimes tells the story with emotion and who recounts the appropriate moods; in most cases this role can be filled by either a man or a woman.
Mahler's later compositions for voice were based on the poetry of Friedrich Rückert: RückertLieder. The hyper-romantic composer was attracted to these lyric poems that were expressing similar highly charged emotions to those Mahler himself was living through. Liebst du um Schönheit ('If you love for beauty') was a present from Mahler to his wife Alma. This beautiful composition on love has both male and female singing in response to each other. The largest song in this set Um Mitternacht ('At midnight') takes one on a far-reaching journey of the soul – a Wagner-like music drama. One is stripped away to the core, only the essentials are there for one to experience, it is a torture of leaving. All sorts of thoughts may come to mind when hearing this song: joy, fright, one is drawn deeper and deeper into 'the night', there is a grounding in the reality of time, yet transcending human and earthly spiritual boundaries.
Mirroring his compositions there were the dizzying complexities in Mahler's personal and professional life. Disasters befell him throughout his relatively short life. It is a catalogue that would propel anyone into psychoanalysis: five of his fourteen siblings died in childbirth and three did not grow to adulthood; a passionate yet unfulfilled love affair with the soprano Johanna Richter and painful rejection in this first love (with the resultant song cycle Songs of a Wayfarer); a difficult marriage to Alma Schindler; both daughters succumbing to scarlet fever and diphtheria from which the elder daughter Maria died, hence Kindertotenlieder ('Songs on the Death of Children') was composed; he inherited congenital heart disease; had conflicts with singers, orchestras and opera house administrators; coped with vicious anti-semitism and had scant recognition or popularity as a composer during his lifetime.
Out of this turmoil Mahler composed music that gives one a journey into one's own soul. For the listener, Mahler's music is inherently personal, lyrical and powerful.
Margaret chose sublime illustrations of Mahler's vocal compositions. Amongst them: Dietrich Fischer-Dieskau singing Ablösung im Sommer ('Substitution in summer'). This is the young Mahler, humorous, with a light touch of the piano and the voice dominant. From the same composition period, Um schlimme Kinder artig zu machen ('How to make naughty children good", a very special treat for us because this was a recording of Margaret singing; please may we hear more! Then the maturing composer; we listened to Rheinlegendchen ('A legend of the Rhine') with Christa Ludwig and Des Antonius von Padua Fischpredigt ('St Anthony of Padua's Sermon to the Fish) sung by Dietrich Fischer-Dieskau with pianist Daniel Barenboim. In this phase the compositions are more of a discussion between the voice and the piano, both are equal.
Two songs from RückertLieder, illustrating what could be termed Mahler's enlightened compositional period, completed the programme Liebst du um Schönheit ('If you love for beauty'), sung by Alice Coote and Um Mitternacht ('At midnight'), sung by Dietrich Fischer-Dieskau with Karl Böhm conducting the Berlin Philharmonic Orchestra.
There is a theme to many of the presentations we have enjoyed at our Society. Wonderful presenters have shared their enthusiasm, knowledge and fascination of a subject. It is an exciting enrichment we members receive. I, for one, am 'catching on' as the doors open.
Thank you Margaret, it was just a wonderful afternoon.
Paul Caesar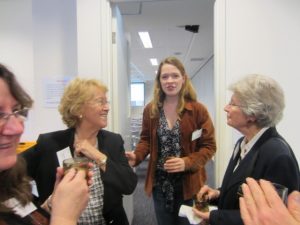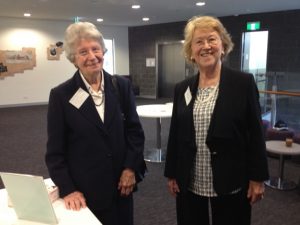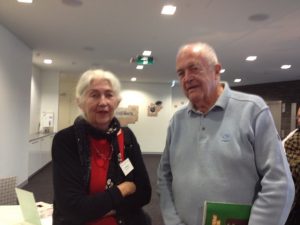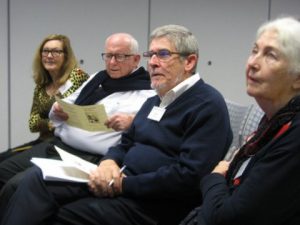 vvvvvvvvvvvvvvvvvvvvvvvvvvvvvvvvvvvvvvvvvvvvvvvvvvvvvvvvvvvvvvvvvvvvvvvvvvvvvvvvvvvvvvvvvvvvvvvvvvvvvvvvvvvvvvvvvvvvvvvvvvvvvvv
Unexpected Wagner Singers
Illustrated talk by Dr Graham Bruce, 9 July 2016
Our President, Dr Graham Bruce, took a large and enthusiastic audience down a rarely-frequented path, when he presented 'Unexpected Wagner Singers'.
Before playing us a series of 'unlikely' Wagnerians, Graham discussed the old question of when a singer becomes a Wagnerian – is it at the outset of a career, when a young singer is given short, relatively untaxing parts, or whether the maturing voice, tending with the years to acquire the robust qualities required for the long roles, becomes known as a Wagnerian singer? (I am reminded that Wagner once said that there were no minor roles in his works, only some shorter ones.) Graham cited us examples of both.
The first Unexpected Wagnerian was Maria Callas, recorded by the Italian radio RAI in 1950 as Kundry. In the manner of the times, this performance (presumably live, before an invited audience) was sung in Italian. The energy, the fearless portrayal of the role was breathtaking: to quote Graham's remark, 'she takes no prisoners'. Her Parsifal, the hitherto to me unknown Africo Baldelli, was a pleasant surprise, also unexpected.
Then to a soprano idolised for her 'voce d'angelo' – to quote Toscanini's definition of Renata Tebaldi, who in the immediate post-war years sang Eva and Elisabeth at La Scala. Despite the fact that in the ensuing years, la Tebaldi had moved to a late Verdi and verismo repertoire, she was persuaded in 1966 to record, among other arias, Elsa's Dream (which became 'Sola ne' miei prim'anni') and sounded divine. As he did with all the other singers he presented, Graham showed us a series of photos that showed Tebaldi in stage costumes (Elisabeth and Elsa), as well as the historic photo backstage at the Met with Callas, with Rudolf Bing looking out between his divas like some mischievous Merlin, while the two sopranos smile beatifically at the camera.
The next singer was one who sang in her native language: Elisabeth Schwarzkopf, who made her stage debut in Germany in the immediate post-war period as the Second Flower Maiden in Parsifal, but who just a few years later sang Elsa at La Scala (1950) and Eva at Bayreuth under Herbert von Karajan in 1951. In 1955 she recorded Eva in Die Meistersinger for the Italian radio network RAI; she later sang Elsa in a studio recording of Lohengrin in 1958. From this recording we were treated to a magnificent scene between Elsa and Ortrud (the great Christa Ludwig in one of her most dramatic portrayals). My feeling was that Schwarzkopf, stimulated by the presence of a singer who was truly at her ease in this repertoire, rose to the occasion and got better and better as the scene proceeded. I wonder does anyone share my view?
The next singers were again singing in a language not theirs, but Monserrat Caballé offered a marvellous Senta from Madrid (where she had previously sung Sieglinde). This impassioned Senta offered a lesson in how to sing Wagner as he said he wanted it ­– as if it were by an Italian composer, with leaps and pianissimi and fortissimi and drama and all the while legatissimo (not a real word but you get the idea). Fabulous. What a wonderful discovery – thank you, Graham!
Another Spaniard, Victoria de los Angeles, is mainly remembered for her unrivalled Carmen and her Manon, but she too sang Eva and Elisabeth; Eva was her Met début and she sang Elisabeth in Bayreuth in 1961 under Wolfgang Sawallisch. We heard, live from this performance (prompts and coughs and all) her lovely prayer from Act III, Allmächt'ge Jungfrau. Graham offered a projected translation of this text, which I found a help; on other occasions he gave us a summary that enabled us to follow the plot.
And now, for the pièce de résistance, back to a magnificent Callas, triumphing (1957) in the city where she had begun her career as a teenager, in the Herod Atticus Arena of Athens, with a spellbinding Liebestod under La Scala's longtime conductor Antonino Votto, who evidently didn't mind that the text began 'Dolce e calmo' and not 'Mild und leise'. And indeed who cares? It was a wonderful finale to a hugely interesting afternoon.
Margaret Baker Genovesi
10 July 2016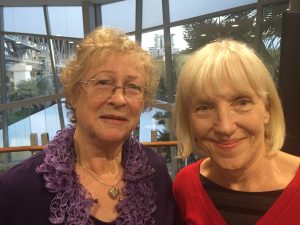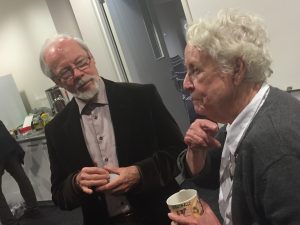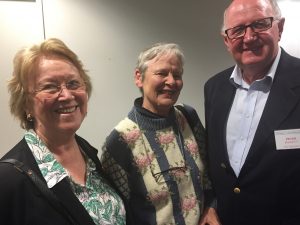 vvvvvvvvvvvvvvvvvvvvvvvvvvvvvvvvvvvvvvvvvvvvvvvvvvvvvvvvvvvvvvvvvvvvvvvvvvvvvvvvvvvvvvvvvvvvvvvvvvvvvvvvvvvvvvvvvvvvvvvvvvvvvvvvvvvvvvvvvvvvvvvvvvvvvvvvvvvvvvvvvvvvvvvvvvvvvvvvvvvvvvvvvvvvvvvvvvvvvvvvvvvvvvvvvvvvvvvvvvvvvvvvvvvvvvvvvvvvvvvvvvvvvvvvvvvvv