Parsifal: Kundry's Kiss – Four Interpretations
27 October 2018
Speaker: Professor Stephen Emmerson
A wonderful afternoon and presentation by Professor Stephen Emmerson. Nearly forty members attended – was everyone longing for a kiss from Kundry?
Four particular interpretations were discussed by Stephen: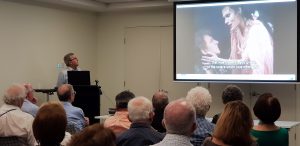 First: Otto Schenk's 1992 direction at Metropolitan Opera, James Levine conducting with Waltraud Meier as Kundry and Siegfried Jerusalem as Parsifal. This production and in particular the 'kiss scene' were faithful to Wagner's instructions. Waltraud Meier a real seductress, showing ravishingly beautiful looks and dramatic multi-layered singing. Parsifal receiving the kiss experiences the suffering of both Kundry and Amfortas. He, the noble fool, experiences compassion and this is life-changing for him.
Second:

A Nikolaus Lehnhoff 2004 direction. It is rather confusing: Kundry

tries to seduce Parsifal; he violently rejects her, upon which Kundry emerges 'free' from her stylized chrysalis-like costume.

Third: Hans-Jurgen Syberberg's 1982 film. This moved beyond realism and towards symbolism. A lip-sync acting, radical and controversial film. Stephen Emmerson was very enthusiastic about this production and many members agreed with him and were quite excited with the concept. Syderberg regarded Kundry as the centre of the opera – mother, seductress and penitent. It was an intense piece of performance.

Fourth: Francois Girard, director at Metropolitan Opera 2013, with Katarina Dalayman as Kundry and Jonas Kaufmann as Parsifal. Kundry is not to the forefront in this production. It is the effect of the kiss on Parsifal that is made paramount – it opens up the wound of Amfortas in Parsifal, literally – and that brings compassion to the noble fool. Just terrific singing by Kaufmann; he overshadows Dalayman.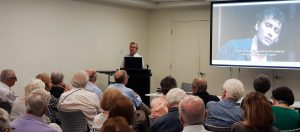 It really was a stimulating club meeting and engaged members at the question time following Stephen's presentation.
And let us not forget the afternoon tea provided by our members, during which the talk was mainly discussing Syderberg's symbolism.
Review: Paul Caesar
Photographs: Stephanie Hinrichs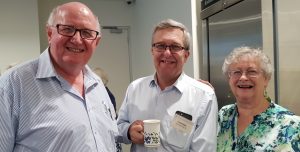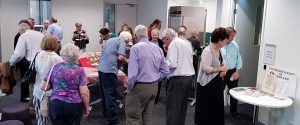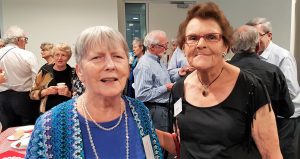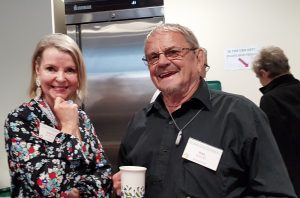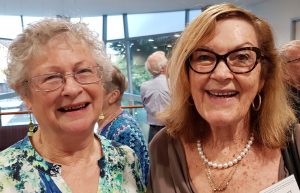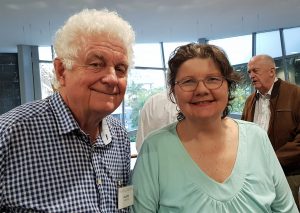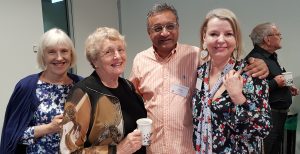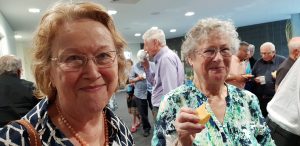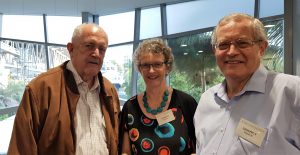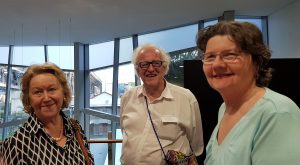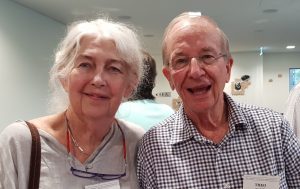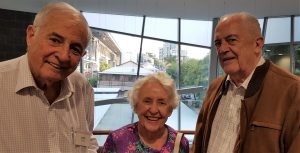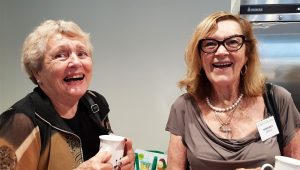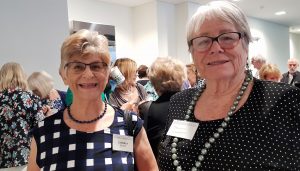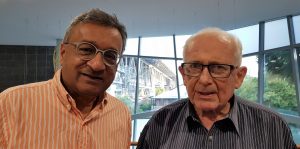 FRIEDRICH SCHORR, Wagnerian baritone (1888-1953)
15 September 2018
Speaker: Colin Mackerras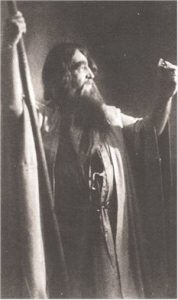 Colin Mackerras, who as well as being an eminent sinologist is also a passionate lover of Wagner, presented – lovingly indeed – the singer who in his opinion was the greatest ever bass-baritone of the Wagnerian repertoire: the Hungarian (later U.S. citizen) Friedrich Schorr.
Schorr was born in 1888, and his career thus centred largely on the 20's and 30's of the last century, both in Europe and in America – principally at the Met. Indeed, Schorr was the Wotan in a historic performance of Die Walküre broadcast live on the eve of the attack on Pearl Harbour, and the interpretation we heard of Wotan's farewell was a perfect example of the singer's approach to Wagner, with his smooth legato line (the opposite of what many years later would be defined as "park and bark", which mistakenly became the hallmark of so many otherwise fine singers who sang this repertoire).
But I digress: Colin's first excerpt was the only one that did not feature Wagner: it was the dramatic vengeance aria of the villain Pizarro in Beethoven's Fidelio, sung by the then 34-year-old; there followed the great, moving monologue of the Dutchman, "Die Frist is um". Then we heard the scene from Siegfried in which Wotan as Wanderer solves Mime's riddles; this showed a very different aspect of Schorr's style, and I also found the previously unknown to me Heinrich Tessmer as Mime very impressive.
But the height of Schorr's art,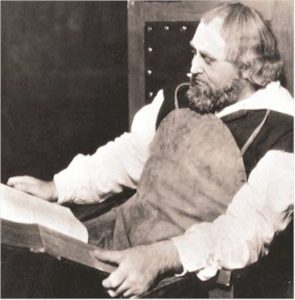 according to Colin, was his interpretation of the role of Hans Sachs in Die Meistersinger von Nürnberg, and the two great monologues of this role, followed by the presentation (the baptism, as it were) of the Prize Song, and the marvellous quintet, were undoubtedly the most sublime moments of the afternoon.
Colin's presentation was followed by an animated discussion, motivated by Schorr's Jewish heritage and subsequent banishment from Bayreuth. Several of our members offered personal observations based on their recent journeys (I would almost say "pilgrimages") to Bayreuth, and the afternoon ended far too soon for this member.
Thank you, Colin, for presenting a singer who was perhaps eclipsed by the fame of later singers, but whom we heard in wonderful moments thanks to your research and enthusiasm.
Review: Margaret Baker-Genovesi

Wagner's Choral Music and Opera Choruses
25 August 2018
Speaker: Graham Bruce
Our Vice President Graham Bruce presented a most interesting aspect of Wagner's music, which concentrated on excerpts from his choral compositions both for concert and for opera.
Graham began with an early work, dating from 1833, Das Liebesmahl der Apostel, with an a cappella male chorus from Dresden, followed by the entry of the orchestra, which vividly depicted the descent of the Holy Ghost on the day of Pentecost. The work presented some, for me, unexpected harmonic modulations.
Graham reminded us that Wagner revered Carl Maria von Weber, and we heard a most beautiful aria from Weber's Euryanthe, sung sublimely by Jessye Norman.
When Weber's remains were transported from London, where he died, to be interred in Dresden, Wagner composed Trauermusik (funeral music, long and moving), on motifs from Euryanthe, to accompany the burial rites. After this, once again we heard a male chorus, this time from the Vienna Chamber Chorus, with Wagner's An Webers Grab (At Weber's Grave).
Before we broke for afternoon tea, Graham invited us to observe with a critical eye what was to follow ¬– three choruses from Wagner's operas – from the point of view of the director's and the conductor's perspectives. This drew our attention to the placing of the chorus in relation to the solo singers, and the instructions clearly given to the chorus members as to how to react and participate in the on-going drama. We heard and watched excerpts from Götterdämmerung, Parsifal, and Der fliegende Holländer – respectively a filmed excerpt from the Chéreau Ring, a live performance from Bayreuth with the direction of Wolfgang Wagner, conducted by Giuseppe Sinopoli and, lastly, a very interesting version specifically devised for the cinema, with the mariners' chorus and celebration (we even saw the ghost crew in a very frightening, close-up moment, something that would hardly have been possible on a live stage).
For me the highlight was the Act I, Scene 2, of Parsifal, with a magnificent and despairing Falk Struckmann as Amfortas, and a bemused Parsifal, motionless, trying in vain to understand what was happening. Graham underlined Wolfgang Wagner's approach to a symmetrical setting, which was reinforced by the procession of the Knights of the Grail in this scene. It was a splendid afternoon, with much new information to reflect upon.
Review: Margaret Baker-Genovesi
Photographs: Stephanie Hinrichs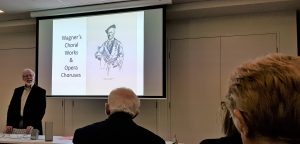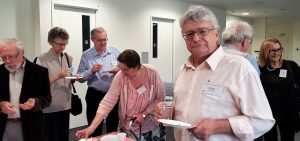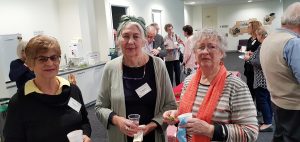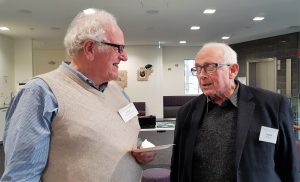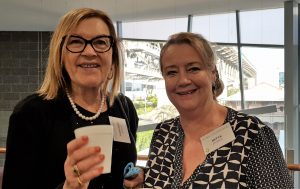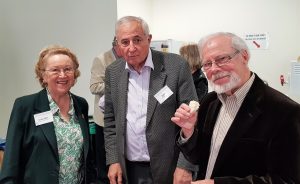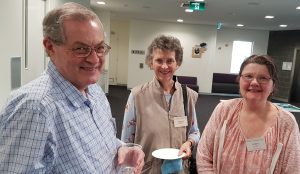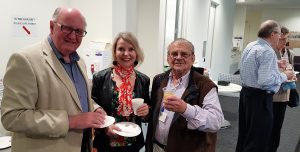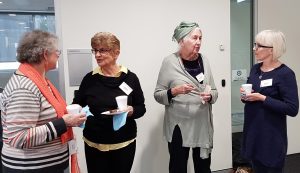 Magic Fire
28 July 2018
Magic Fire (1955)

Screening of the film on the life of Richard Wagner
This film, directed by William Dieterle, dates from 1955, and is based on the life and works of Richard Wagner. It mostly follows what we know of Wagner's life, with a few episodes invented for the sake of greater dramatic effect – for instance, Wagner's spending some time in a debtor's prison – but on the whole it sticks to history.
Among the more authentic episodes featured was the Paris première of Tannhäuser, known to have been a disaster, the probable reason for which was his placement of the obligatory (for Paris) ballet in the first act, too early for the members of the wealthy and influential members of the Jockey Club to turn up to the theatre. This rowdy scene was staged with great dramatic effect, as was Wagner's distress on cancelling all performances after the third night saw a similar debacle.
Wagner was played convincingly by Alan Badel, perhaps too handsome, and certainly much taller; Carlos Thompson had all the charisma we expect of Liszt. The women in Wagner's life (Yvonne de Carlo as perhaps a too attractive Minna, Rita Gam as Cosima and Valentina Cortese as Mathilde Wesendonck) were all three impressive – I particularly liked the Italian actress, whose scenes with Wagner were of great effect. (As was the scene where Wagner's arch-rival Giacomo Meyerbeer held court in his bed over breakfast.)
Throughout the excerpts from Wagner's operas (traditionally and splendidly staged by Rudolf Hartmann, later General Manager of the Munich Opera) I found myself wondering who the singers were. The production had evidently aimed at excellence in this respect, since my investigation revealed that among the singers were Hans Hopf, Otto Edelmann, Leonie Rysanek, and – for me very moving – my very last singing teacher, Annelies Kupper, all famous stars of post-war Bayreuth. And it was interesting to see Erich Wolfgang Korngold (who was responsible for the musical accuracy) briefly in the role of the conductor Hans Richter.
I have no doubt that this film in its day will have contributed to reaching an audience that otherwise would never have heard, or perhaps even heard of, Wagner, thus rendering a great service to the dissemination of his works. And still in our day, with our further knowledge of subsequent events, it proved to be a really entertaining afternoon, and we are all very glad that Peter Bassett offered it for our enjoyment.
Review: Margaret Baker-Genovesi
Photographs: Stephanie Hinrichs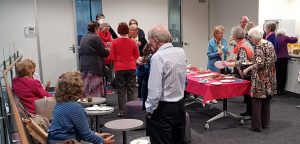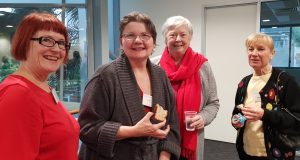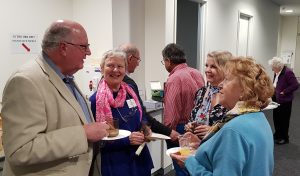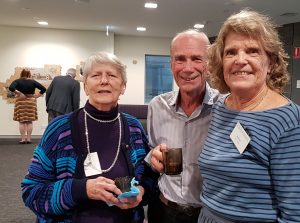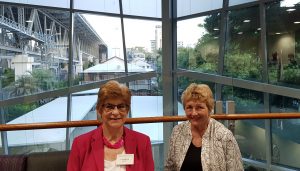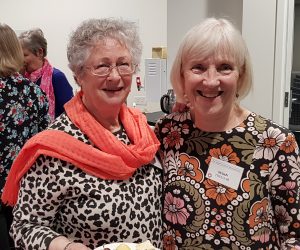 Lohengrin Acts 1 and 2
23 June 2018
DVD recorded at Dresden's Semperoper.
This was a great afternoon's entertainment for members to see a recent performance of Lohengrin from Dresden.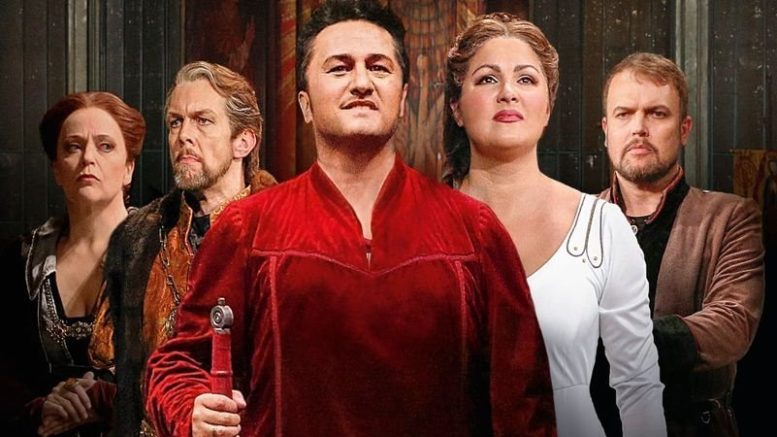 The Conductor was Christian Thielemann; we saw why he is considered the foremost Wagnerian conductor today. The prelude was taken at a deliberate tempo – rather slow. The volume of the orchestra never competed with the singers. He created the sense that the voices literally rode above the instrumental music, clear and free. The singers did not have to force their voices, allowing them to sing softly when required.
Lohengrin was sung by Piotr Beczala, making a role debut. We heard his bright, firm tones and he sang with warmth and confidence. This was a really good muscular and lilting performance.
Elsa was sung by Anna Netrebko, also making a role debut. Her lush, coloured voice was at home in the Wagner universe. She played a mature Elsa, with a trajectory from helplessness to devout conviction and then to despair. It was a wonderful acting interpretation, something that is the essence of Netrebko. She sang with openness and unleashed waves of beautiful sounds and lingered – luxuriously – over her notes. This was a different style from some other Wagnerian sopranos in their Elsa roles that one may have seen, where a more virginal, clear sound is heard.
Netrebko's and Beczala's appearances in their debut roles were widely anticipated events at the time of this production. They had already charmed the world with their onstage chemistry igniting Puccini and Tchaikovsky – seen by many members no doubt at Metropolitan Opera simulcasts.
Telramund was sung by Tomasz Konieczny. Believe it or not, this was also a role debut. Full praise again to Christian Thielemann for bringing these debut dynamics to such success. Konieczny let loose with robust and exciting singing.
Ortrud was sung by Evelyn Herlitzius who was outstanding and perhaps the highlight of the recorded performance. She has striking stage presence; everything she did on stage was full of tension and drama and her singing was the perfect foil for both Konieczny and Netrebko. Herlitzius voice is not the most beautiful but it has character and is a powerful one that cut through the orchestra and forcefully expressed the character's evil.
Heinrich was sung by Georg Zeppenfeld. His voice has great dignity and power.
The King's Herald was sung by Derek Welton. He has a forceful, beautiful voice; he is a young Australian baritone who is making a big name for himself in German opera houses.
The production was a revival of Christine Mielitz's 1983 traditional production.
Members experienced an unforgettable musical performance. The DVD was released in July 2017 on Deutsche Grammophon and is easily available on internet classical music sites.
Review: Paul Caesar
Photographs: Stephanie Hinrichs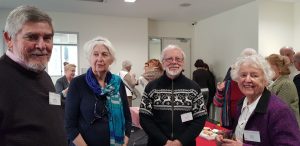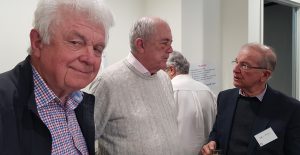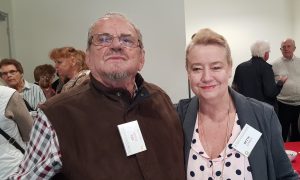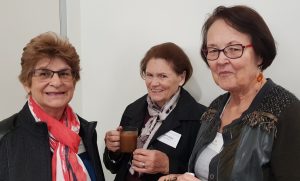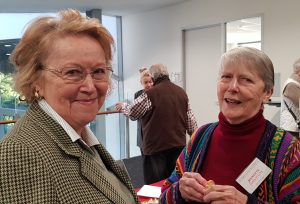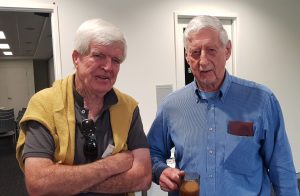 Wagner and Liszt: The Anxiety of Influence
16 May 2018
Speaker: Ammiel Bushakevitz
The visiting international pianist and Wagner specialist Ammiel Bushakevitz was the Society's guest on 16th May, and offered us an insight into the musical and personal relationship over long years between Wagner and Liszt, in a presentation entitled 'Wagner and Liszt: The Anxiety of Influence'.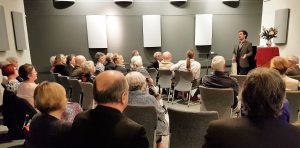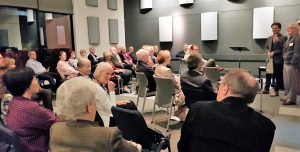 As we know, Liszt eventually became father-in-law to Wagner, but less than two years in age separated them; over the years, and well before Wagner's marriage to Liszt's daughter Cosima, Liszt was an enthusiastic and powerful sponsor of Wagner's music.
Ammiel indeed gave us many examples of Liszt's amazing generosity to fellow musicians, and not only to Wagner, throughout his life. He even revealed that Wagner once appealed, successfully, to Liszt to finance a holiday in Italy at Lago Maggiore, because he was 'tired'.
Ammiel referred in some detail to what was to be known, in the 19th century, as Lisztomania, citing also Ken Russell's film of 1975 (which I remember as interesting but grotesque) about the hysteria that surrounded the great pianist, including extraordinary manifestations such as the wearing, on a necklace, of Liszt's discarded cigar. But he also spoke about Liszt's decisive contribution to the evolution of the modern grand piano – very different at the end of his career from what he had found at the beginning.
A consummate pianist, Ammiel played us several examples of the links between Wagner and Liszt, one of which I found particularly touching: Liszt's composition At the grave of Richard Wagner, which owed its inspiration, which he illustrated, to a theme from the opening of Parsifal.
As pianist rather than lecturer, he presented two major works by Liszt, both brilliantly performed – The Fountains of the Villa d'Este, and his transcription of Isolde's Liebestod.
Our Vice-President Graham Bruce, who had introduced Ammiel and commented on his illustrious career, thanked him in our name, after which we all adjourned to celebrate (albeit a few days ahead of time) Wagner's 205th birthday – our thanks go to Sheena and her team for the catering! And thanks also to Jennette for the excellent printed program that was distributed at this event.
It was good to see that so many of our members were present, and we thank Professor Scott Harrison for the hospitality of the boardroom of the Conservatorium.
Our good wishes will follow Ammiel Bushakevitz as he continues his Performing/Lecturing tour in the Southern Hemisphere.
Review: Margaret Baker-Genovesi
Photographs: Stephanie Hinrichs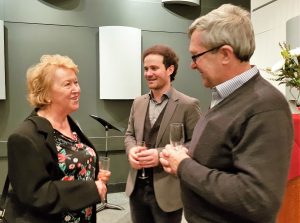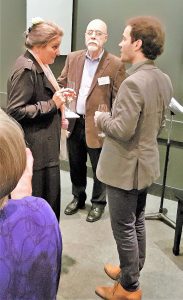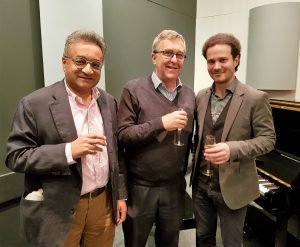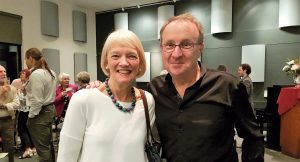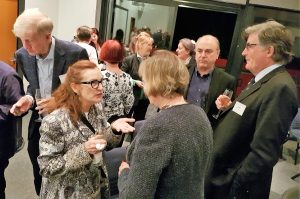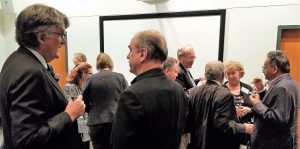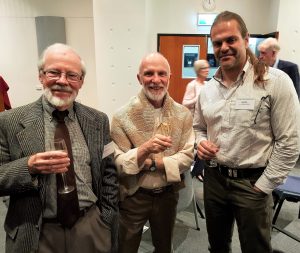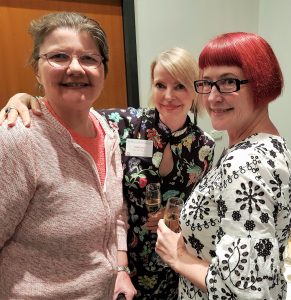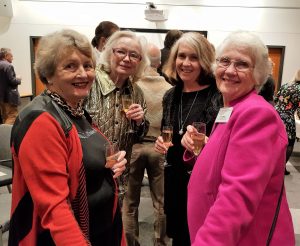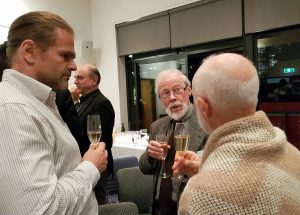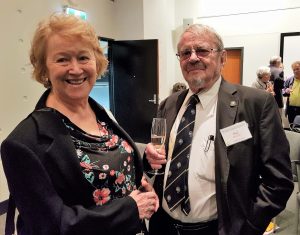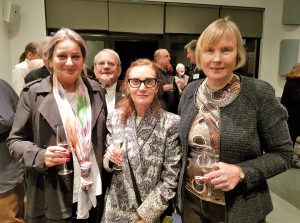 Wagner at the Venusberg
28 April 2018
Speaker: Peter Bassett
Our President Peter Bassett gave a stimulating and interesting presentation on the background influences experienced by Richard Wagner and how he assembled his thoughts to compose Tannhäuser.
Peter showed some great pictorial and musical illustrations of these influences. A 1978 Bayreuther Festspiele production of Tannhäuser – conductor Sir Colin Davis and director Götz Friedrich – formed the major sequence of illustration. The singing in this production is just ravishing – an adjective that Tannhäuser would enjoy.
Spas Wenkoff was in the title role of Tannhäuser – wonderful casting with the good looks of a Tannhäuser and a superb heldentenor. Gwyneth Jones performed both Venus (in this role quite lasciviously) and Elisabeth (here as the redeeming angel). Her voice and acting was just wonderful to watch. Bernd Weikl was Wolfram von Eschenbach, a beautiful baritone voice.
Interesting questions were asked of Peter at the end of the discussion, such as 'Was Wagner being religious or dramatic?' Opinions on the set designs were expressed.
Afternoon tea followed and much thanks again to members who brought the sandwiches and other items for us to enjoy.
Review: Paul Caesar
Photographs: Hal Davis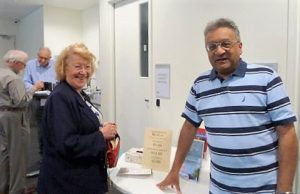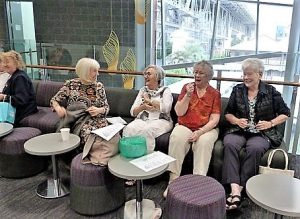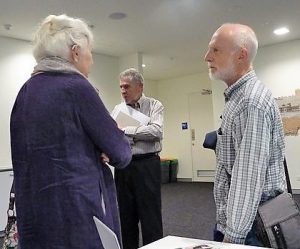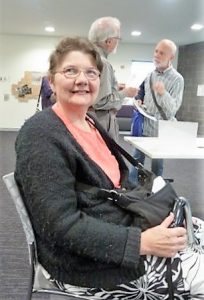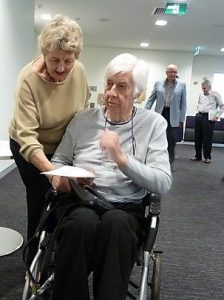 Study Day: Wagner in Italy – Its influence on Wagner, and his influence on its composers.
24 March 2018
Speakers: Graham Bruce and Peter Bassett.
Our Study Day on Wagner in Italy reflected the fact that although Richard Wagner is usually regarded as the archetypal champion of German music, he had a life-long love affair with Italy and its musical traditions.
When composing his earliest operas, he was inspired again and again by the Italian sense of melody: 'Song, song and yet again song, you Germans!' he implored his countrymen. He visited Italy on many occasions, taking refuge from the dark clouds of the north in the sunny climes of Naples, Venice and Sicily and in many places in between. He even considered migrating there.
Graham Bruce examined Wagner's visits and compositions with Italian connections up until about 1861, and Peter Bassett continued the story until the composer's death in Venice in February 1883 and his influence on Italian composers who were his contemporaries and followers.
Over thirty members enjoyed learning about this beautiful and fascinating part of the Wagnerian story.
Sincere thanks to Graham Bruce and Peter Bassett for their well-researched, illustrated presentations.
Photographs: Stephanie Hinrichs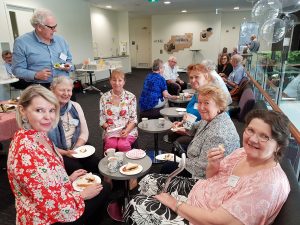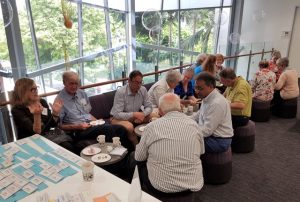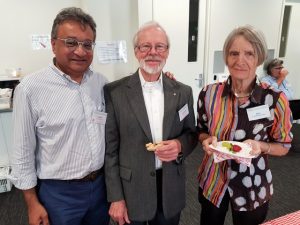 Die Meistersinger, Act 3 screening
24 February 2018
This meeting featured the 1984 Bayreuth production of Die Meistersingervon Nürnberg directed (including set design) by the composer's grandson Wolfgang Wagner – from the horse's mouth, so to speak.
Our President Peter Bassett initially welcomed new members, and then reminded us of all of the various aspects of the Society, with its website showing events, reviews, links to fellow societies, etc.
Peter also illustrated the concept of the Mastersong (which, in fact, Hans Sachs explains in detail to the somewhat bemused Stolzing), and alerted us to the idea that the whole opera is conceived along the lines of the Mastersong, with the first two acts of equal length followed by the third act whose length is equal to the other two combined. This was new to me and I found it extremely interesting.
The DVD viewing began from the third act entrance of Walther von Stolzing (a splendid and convincing Siegfried Jerusalem) in the workshop of the Meister cobbler-poet Hans Sachs (an exemplary Bernd Weikl), and took us through, with no interval, to the end of the opera – a long but memorable performance. Speaking as someone who is heartily sick of today's Regietheater travesties (witness the appalling Don Carlos from Paris recently), I was delighted to see a set that really looked like a neat, sunlit German workshop, followed by genuine, crowded merry-making on the Festival Meadow.
The attention of our large audience was captured from the first minute. Amusingly, a goblin-like figure in modern dress appeared for a split-second on stage at the end, and proved to be Wolfgang Wagner.
The viewing lasted to about the time we had available for the use of the theatre, so the usual post-performance discussions were curtailed, but over afternoon tea (thanks to the Nibelungs Susan Treloar, Carol Bassett and Peter Jansen) we discussed our various impressions. It seemed to be the general opinion that the men – Weikl, Jerusalem, Prey (Beckmesser) and Clark (David) were excellent, whilst the Eva (Mari Anne Häggander) was mostly found to be of a very different level. A pity, since the whole production should surely have passed into history as the most authentic ever, given the horse's mouth factor. If I may express my own preference, I found that Bernd Weikl was a peer among all the other magnificent interpreters of Hans Sachs, with not a flaw in his portrayal of this immense role. Sachs's famous defence of German culture and its poetry and music was declaimed by Weikl from the heart with total conviction – I found it spine-tingling.
We are all looking forward to the next Study Day on 24th March, which will take us to Wagner in Italy. Not to be missed.
Review: Margaret Baker-Genovesi
Photographs: Hal Davis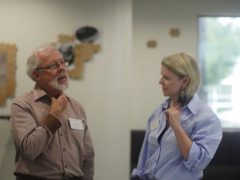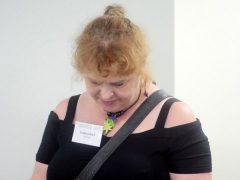 A Wagnerian Antiques Roadshow Afternoon with contributions from six members of the Society
Saturday, 20 January 2018
Margaret Baker-Genovesi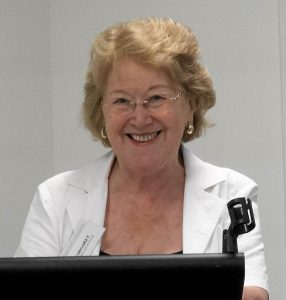 Margaret gave us a most interesting story of two concert performances of the Ring Cycle she enjoyed in Rome in 1968 and later in 1988. They were concerts performed in the Auditorio della RAI and broadcast over the Italian radio. Margaret was fortunate to be in the audience for both these performances.
The orchestra playing for the 1968 concerts was the Rome Orchestra conducted by Wolfgang Sawallisch. Some of the 1968 cast were Nadezda Kniplova – Brünnhilde, Janis Martin – Fricka, Hildegard Hillebrecht – Sieglinde, Eberhard Katz –Siegmund and Theo Adam – Wotan. (Interestingly this performance is available on a Myto CD set.)
The 1988 concerts were so popular that some women were dressing in black dresses and men in tails, borrowing violin cases and 'sneaking in' through the orchestra players' entrance. Wagner makes one take extreme steps! Margaret has great memories of these concerts because they introduced her to the music of Wagner – still aflame today.
Graham Bruce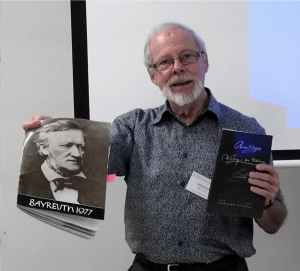 Graham recalled his great experience of attending the second year's production of the Chereau 'Centenary Ring' in 1977. His intriguing tale – and much luck – of how he obtained tickets was a story by itself. Graham saw director Chereau's own considerable acting skills in this year. Rene Kollo (Siegfried) broke his leg and was obliged to sing his part from the wings and sometimes secreted in the folds of the sets. The director – Chereau – acted the role on stage.
The other interesting observation Graham highlighted is how productions at Bayreuth respond and evolve to criticisms made regarding sets and direction. Amongst the singers Graham saw that year were Rene Kollo, Gweneth Jones (Brünnhilde) and Siegfried Jerusalem (Siegmund).
Theo Baer
A very personal recollection was given by Theo. He was a young boy living with his family in Bayreuth in the immediate post-war years. Theo told members of the adversity of living and going to school amongst the ruins of the city and his family's hardships. Theo's delightful positive character and sense of humour engaged members. Imagine a boy's Lederhosen (shorts made of leather) that in the bitter cold become stiff and can stand upright on the floor!
Theo remembered the revival of the Festival post-war and how, with some young friends, they would sit roadside near the "green hill" and watch dignitaries arrive.
Jennette Johnstone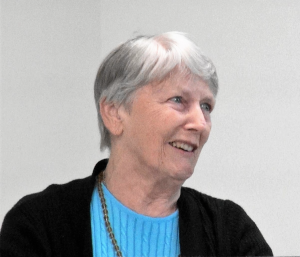 Jennette read an extract from a quite remarkable, lengthy and very emotional obituary from The New York Times, 14 February 1883, entitled DEATH OF RICHARD WAGNER. (Wagner died on 13 February 1883.) The opening sentence was, 'Without a word of preliminary warning the announcement was telegraphed all over the world last night of the sudden death, in Venice, of Richard Wagner'.

There was also an obituary in the 'Brisbane Courier', Friday 16 February 1883. News travelled fast even then and perhaps Brisbane was more sophisticated at the time than one imagines! See Trove Digitised Newspapers: DEATH OF RICHARD WAGNER.


Colin Mackerras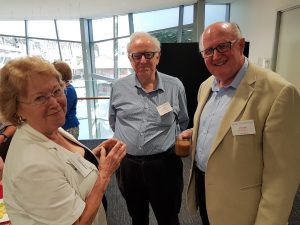 With great conviction and personal feeling Colin explained why he considers the first act of Die Walküre one of the most perfectly constructed of Wagner's music scores. Wagner is now dealing with real humans – the Gods of Das Rheingold are out of the picture; elemental love was composed; and there is sublime tenderness between the twins that reaches a very human climax. It is very intimate music, including one-on-one conversations; the score has both beauty and delicacy.
Cosima wrote, with similar feelings, "The most emotional, the most tragic of all his works". Colin showed members his considerably old (and tattered, verifying its frequent use) piano score of Act One. He described his recollections of reading this score with his brothers whilst listening to the opera on vinyl records and on the radio.
Colin sincerely conveyed to members his passion for this particular section of the Ring.
Peter Bassett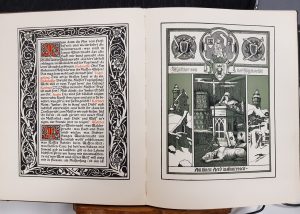 Peter displayed an antique book of illustrations of Die Meistersinger von Nürnberg, full of beautiful woodblock designs and Gothic script.
Peter also played some remarkable antique recordings which included the voices of Johannes Brahms in 1889, Lilli Lehmann and Siegfried Wagner conducting Siegfried Idyll, 1927.
Members were given a handout explaining these six recordings which also included a Mandolin Cylinder Musical Box of 1880.
All in all, the afternoon was just wonderful.
Review – Paul Caesar
Photographs – Stephanie Hinrichs
CHRISTMAS LUNCH – 2017
Notes from Margaret Baker-Genovesi
On Sunday 17 December, the Wagner Society in Queensland celebrated Christmas in what was for me a novel style, with an essentially German version of Christmas, and with a second virtual patron presiding: King Ludwig II of Bavaria, in a charming restaurant bearing his name, in Maleny, a two hours' drive from Brisbane.
Most of us took the opportunity on offer of having someone else drive, and a bus was hired to take us there and back. On arrival at this incredibly beautiful spot, with breath-taking views over the Glasshouse Mountains on one side, and the ocean to the other, we were welcomed by an accordion player with traditional Bavarian tunes, and a glass of whatever we opted for.
Lunch was served in a space devoted to us alone; the food was wonderful and the service highly professional and friendly at the same time.

Our President Peter Bassett had once again prepared a Wagnerian quiz, a photograph of two busts, one of King Ludwig and the other of Wagner, with speech balloons to be filled in. The winning entry was – Ludwig: Where are you going to spend Christmas? And Wagner: With my friends of the Wagner Society.
The return journey saw us taking a different route back to our dropping-off place, something I found very interesting, since we drove through what may well be Queensland's most beautiful countryside on a perfect day. Christmas greetings were exchanged all round, after a lovely day spent in perfect harmony – no doubt with Wagner's blessing.
The filming of 1964's recording session of the Solti/Culshaw Götterdämmerung
This was a wonderful documentary of how a great recording was made. The BBC TV documentary showed us behind the scenes of the recording of the final opera of Wagner's Ring – Götterdämmerung – for Decca Records in the early 1960s.
It is an engaging documentary; producer John Culshaw looks as if he is commanding an army with huge amounts of logistics and it is enjoyable as we see him cajole Maestro Georg Solti and the great singing cast. It is an amazing look into the story behind one of the greatest classical recordings in history, with plenty of time to watch and listen to the music as well.
It is an 88 minute DVD, filmed in Vienna with Sir George Solti conducting the Vienna Philharmonic Orchestra. The Sofiensaal, Vienna, was the site of recording (see photographs below). The singers are Birgit Nilsson (Brünnhilde), Wolfgang Windgassen (Siegfried), Gottlob Frick (Hagen), Dietrich Fischer-Dieskau (Gunter) and Claire Watson (Gutrune). Solti talks intelligently about the difficulties of recording and why he chose the Vienna Philharmonic – it has a warm, sweet Wagner sound; the Berlin has a sharper, brass sound. Nilsson gave insight into the difference from a singer's perspective between an onstage performance and a studio recording. Culshaw is very surprising – a real recording supremo. It was intriguing seeing him tell Solti what tempo to take for the funeral march and as well as the fact that it is Culshaw, rather than Solti, who dictates which takes make it to the final recording pressing.
For me, some of the wonderful, eye-opening proceedings one saw were:
Dietrich Fischer-Dieskau smoking – and it did not affect his great voice. There was a smoke haze over the orchestra most of the time from so many of the members also smoking.
The singers moving about as they would do on an opera stage; not remaining in a static position before a microphone.
Culshaw's insistence in following all of Wagner's staging and instrumental instructions as faithfully as possible.
The local Vienna police department stopping the traffic outside the recording studio ­– "it only costs a couple of bottles of cognac a session".
The practical joke played on Birgit Nilsson during her singing Brünnhilde's immolation scene; a real horse was brought into the studio just as Brünnhilde was about to ride her horse, Grane, into the funeral pyre!
I could only see one woman in the orchestra – the third harp player to the right side of Maestro Solti. Interestingly, it was a harpist, Anna Lelkes, who was the first female given permanent membership of the Vienna Philharmonic in 1997. Previously a female player was considered as an adjunct player. Took a long time in Vienna!
The singers were the best of their generation, and some without peer even today.
Watching Solti conduct with such aerobic style and 'High Priests and Priestesses of Perfection' made it wonderful afternoon.
Review by Paul Caesar
Das Liebesverbot screening
Saturday 21 October 2017

The DVD of Das Liebesverbot, Richard Wagner's second opera, was released in 2017, a joint production of The Teatro Real, Royal Opera House and The Teatro Colon and directed by Kasper Holten.
Richard Wagner once called his second opera, Das Liebesverbot, a 'sin of my youth.' It's easy to see why. This light-hearted effort offers up any number of ingredients Wagner might have condemned outright had they sprung from a mind other than his own.
Wagner wrote Das Liebesverbot – 'The Ban on Love' – in the mid-1830's, when he was barely 21 years old. As with all his operas, he wrote the libretto himself, basing it on Shakespeare's play Measure for Measure.
Even the most basic description of the score makes it unique among Wagner's operas. It's a comedy. The only other opera he wrote that might be considered comic is Die Meistersinger, but as comedies go, that one would have to be called a heavyweight – clocking in at more than four hours long and hefting some pretty serious themes along the way.
By comparison, Die Meistersinger also shows us another reason for the more mature Wagner to have been less than happy with Das Liebesverbot. Meistersinger famously ends with a sort of paean to the dominance of German art and culture – an element that's controversial even among Wagner's most loyal fans.
In Das Liebesverbot, the youthful Wagner took the opposite approach. Along with other young musicians of the time, he was in a rebellious phase. Thematically, the opera strikes a stand against authority – and against German authority in particular. In the opera's music, Wagner seemed to go out of his way to incorporate every non-German musical element he could think of, using any number of French and Italian operatic conventions in the process; there are many echoes of Rossini. He even made the basic change of pointedly resetting the opera's action, moving the story from Shakespeare's original locale, Vienna, to the Sicilian city of Palermo. Considering all that, it's not surprising that in retrospect, Wagner looked back on his second opera with a bemused eye.
On the other hand, the composer might have been well pleased with the production Wagner Society members watched at their recent meeting. It was very comic and joyous to watch; clever stage solutions, a smartphone duet between brother (Claudio) and sister (Isabella) operetta direction and the arrival of the King (as Angela Merkel) topped off this enjoyable production.
I had forgotten the details of the plot of Shakespeare's Measure for Measure, believed to have been written in 1603 or 1604. It is interesting to have a look at this play and just how very closely Wagner followed it. Originally published in the First Folio of 1623, where it was listed as a comedy, the play's first recorded performance occurred in 1604. The play's main themes include justice, 'mortality and mercy in Vienna' and the dichotomy between corruption and purity: 'some rise by sin, and some by virtue fall.' Mercy and virtue prevail, as the play does not end tragically, with virtues such as compassion and forgiveness being exercised at the end of the production. While the play focuses on justice overall, the final scene illustrates that Shakespeare intended for moral justice to temper strict civil justice: a number of the characters receive understanding and leniency, instead of the harsh punishment to which they, according to the law, could have been sentenced.
Shakespeare's Measure for Measure centres around the fate of Claudio, who is arrested by Lord Angelo, the temporary leader of Vienna. Angelo is left in charge by the Duke, who pretends to leave town but instead dresses as a friar to observe the goings-on in his absence. Angelo is strict, moralistic, and unwavering in his decision-making; he decides that there is too much freedom in Vienna and takes it upon himself to rid the city of brothels and unlawful sexual activity. Laws against these behaviours and institutions already exist, and Angelo simply decides to enforce them more strictly. Claudio is arrested for impregnating Juliet, his lover, before they were married. Although they were engaged and their sexual intercourse was consensual, Claudio is sentenced to death in order to serve as an example to the other Viennese citizens.
Isabella, Claudio's sister, is about to enter a nunnery when her brother is arrested. She is unfailingly virtuous, religious, and chaste. When she hears of her brother's arrest, she goes to Angelo to beg him for mercy. He refuses, but suggests that there might be some way to change his mind. When he propositions her, saying that he will let Claudio live if she agrees to have sexual intercourse with him, she is shocked and immediately refuses. Her brother agrees at first but then changes his mind. Isabella is left to contemplate a very important decision.
Isabella is, in a way, let off the hook when the Duke, dressed as a friar, intervenes. He tells her that Angelo's former lover, Mariana, was engaged to be married to him, but he abandoned her when she lost her dowry in a shipwreck. The Duke forms a plan by which Isabella will agree to have sex with the Angelo, but then Mariana will go in her place. The next morning, Angelo will pardon Claudio and be forced to marry Mariana according to the law.
Everything goes as planned, except that Angelo does not pardon Claudio, fearing revenge. The provost and the Duke send him the head of a dead pirate, claiming that it belonged to Claudio, and Angelo believes that his orders were carried out. Isabella is told that her brother is dead, and that she should submit a complaint to the Duke, who is due to arrive shortly, accusing Angelo of immoral acts.
The Duke returns in his usual clothes, saying that he will hear all grievances immediately. Isabella tells her story, and the Duke pretends not to believe her. Eventually, the Duke reveals his dual identity, and everyone is forced to be honest. Angelo confesses to his misdeeds, Claudio is pardoned, and the Duke asks Isabella to marry him.
Wagner hardly changed a scene.
Wagner's musical contemporary Verdi was similarly a very close follower of Shakespearian plots.
Much thanks to our committee for arranging this enjoyable and rare exposure to a seldom-performed Wagner opera. A great afternoon.
Note: Source material for this article is "Wikipedia" and "World of Opera".
Comments from Paul Caesar
Lisa Gasteen AO – Being Brünnhilde
Visit from the Society's Patron – Saturday 9 September 2017
It was very gracious of the Society's Patron, Lisa Gasteen AO, to discuss with members her wonderful career and what was it like 'Being Brünnhilde'.
As always Lisa was modest and engaging. "Looking back it seems a lifetime ago. I almost don't know that person. I am now in a clear space – no directors, no away from family, no flights, no security screening. I don't really miss it."
Lisa won the BBC Cardiff Singer of the World in 1991 but did not rush into a Wagnerian career although many offers were made at the time. During the next decade she was based in Italy and sang mostly Italian opera. With encouragement from Simone Young, Lisa began preparing to sing roles in Richard Wagner and Richard Strauss operas. She sang her first full Ring Cycle as Brünnhilde in Meiningen, Germany, in 2001 under the sometimes tortuous direction of Christine Mielitz – difficult stage movements and many intense rehearsals.
Great roles and world fame followed, amongst which were Isolde in Melbourne, London and Paris, Sieglinde and Brünnhilde at New York's Metropolitan Opera, and Brünnhilde in Adelaide, Stuttgart, Vienna and London.
Lisa described the sensation of singing the Wagnerian roles. "They summon everything that is primitive, intensely emotional and elemental." We listened to an excerpt from a recording of Lisa's Adelaide Brünnhilde and one could feel the emotional pull in her voice and its power and glory, exquisitely refined.
Lisa gave immense recognition to her singing teacher Margaret Nickson. She was a person whose musical judgment Lisa trusted implicitly.
The Lisa Gasteen National Opera School has been established at the Queensland Conservatorium, Griffith University.
See Wikipedia reference also.
Lisa wants to give aspiring professional singers a bridge between their formal studies and the opera house. Visiting international singers and conductors are also involved with the coaching.
The School's partnership with the Queensland Symphony Orchestra also provides valuable professional experience.
BAYREUTH REVISITED
Saturday 26 August 2017
Members experienced a very interesting afternoon when Graham Bruce, Colin Mackerras and Peter Bassett shared their personal experiences, reminiscences and DVD excerpts of three Wagner productions they had seen at the Bayreuth Festspielhaus.
There was plenty of interaction between our presenters and members present as many had also been to Bayreuth and had seen the productions that were discussed.
Graham showed the final scene of Götterdämmerung from a 1994 Ring production directed by Alfred Kirchner with James Levine conducting. We saw a relatively bare stage, actors/singers standing on a slice of a suggested world globe and the set devoid of any suggestions of time and place. The costumes of fanciful designs were rather exotic and flamboyant. The audience is drawn into the scene to concentrate only on the principals singing onstage – no distraction with sets or 'novel' story lines. The role of Brünnhilde was sung by Deborah Polaski. It reminded me of concepts in the "Amsterdam Ring" directed by Pierre Audi (which is available on DVD). Our members' reactions were somewhat quizzical and caused debate on the quality of Polaski's singing.
Colin presented excerpts from all three acts of Parsifal – the 2012 production directed by Stefan Herheim and the conductor Philippe Jordan. Perhaps Colin was up to some mischief with his selection? This was a very, very controversial production at the time with boos from the Bayreuth audience during the performance, unfurling swastika flags on set and alarming references to German ideology during World War II; those were just some of the reports mentioned in the media. However, as suggested by Colin, one should take a more sophisticated review of this production. Colin admitted it was strange: set in Germany not Spain, as an historical parable (not what Wagner intended), political rather than redemptive and conflict versus compassion. When conflict wins over compassion, the outcome can be disastrous for the individual and country. Was this director, at the expense of deliberately reinterpreting Wagner's directions, showing his audience how music and art can be misappropriated by a crude political ruling class? Graham offered an interesting comment on this production of Parsifal… "Why does one go to plays, music and operas, what is the point if not to be sometimes challenged and newly awakened?"
Peter presented the sublime with an excerpt, a scene from Act 3, from the 1984 production of Die Meistersinger von Nürnberg, directed by Wolfgang Wagner and conducted by Horst Stein. This production was set in a world of historical reality, true to Wagner's thesis that German States need not look outside Germany for reference to a great culture and the search for national self-esteem was already contained within a German nation. The quintet sung by Bernd Weikl (Hans Sachs), Mari Anne Haggander (Eva), Siegfried Jerusalem (Walther von Stolzing), Graham Clark (David) and Marga Schiml (Magdalene) was stunning to hear and see, and left members wanting more…
These meetings are so stimulating and wonderful to be part of. Our presenters Graham, Colin and Peter are very generous to share their knowledge and enthusiasm with members.
Comments by Paul Caesar
PARSIFAL: what does it all mean? – Dr Stephen Emmerson
Saturday 22 July 2017
I was first introduced to Richard Wagner's Parsifal – a concert performance – at a Brisbane Bienniale event in May 1995. The programme notes gave this interpretation of What's it all about?
"Wagner's sacred saga of Christian redemption and the triumph of good over evil is recognised as one of the mightiest achievements of 19th century art. Set in medieval Spain, Parsifal is an epic work depicting the conflict of good and evil, the opposition and eventual reconciliation of the flesh and the spirit, the possibility of redemption and the quest for wisdom and enlightenment."
In another Australian production, State Opera South Australia's of September 2001, their programme notes gave the meaning as:
"The journey of a soul. Wagner uses a medieval legend to explore profound questions from both western and eastern philosophies and religions. The story reflects Parsifal's inner spiritual journey. Through suffering comes compassion. Through compassion, knowledge, love. By reuniting the Spear with the Grail, the King is healed, a state of grace is restored to the community, and Parsifal finds his true place in the world."
Those notes then go on the say: "…subtly leading the audience on their own journey of discovery."
This last line was the thesis that Dr Stephen Emmerson proposed. Whatever Parsifal is all about and whether there is any definitive answer, why insist on one? Its meaning is not static. What Parsifal may mean to someone today may not be what Wagner meant in his day. Has too much knowledge and searching got in its way? Stephen suggests we experience Parsifal as a work-in-progress for each one of us rather than as a conclusion.
Ever since its first performance in 1882 the musical and intellectual world has tried to find explanations for this most complex of Wagner's operas. As Stephen commented, none of these explanations is probably right or wrong, for Parsifal contains elements which can be seen as Masonic, Buddhist, Christian, homoerotic, sexist, racist, oedipal and concerning end-of-life redemption, and that is just a short list. There is something passive about this opera. There is drama between the characters, but Wagner is not concerned about the motives of the characters, he is presenting their emotional response.
"Wagner shows things acting on people but not people acting on things. We see the characters almost entirely from the inside. The opera is emotionally passive and concerns itself with total renunciation." (Bryan Magee: Aspects of Wagner.)
Parsifal is thick with parables, symbols and myths. Is Wagner giving us a sermon about the coming of The End? Are the allusions Wagner's theory on German regeneration? Is it the philosopher Wagner's final essay, that unless one is truly compassionate (the innocent fool), there is no life, only turmoil and no redemption?
Stephen also discussed how the work should not be seen as a finality or a stand-alone composition. Parsifal makes many references to Wagner's previous dramas, namely the innocent fool Siegfried, and Brünnhilde listening to Wotan as Kundry listens to Parsifal. German regeneration is also given expression in Die Meistersinger and the Dutchman finds rest through Senta's love just as Amfortas and Kundry are redeemed through Parsifal's compassion.
Some noteworthy productions were mentioned:
The 2013 Metropolitan Opera production of Francois Girard with Jonas Kaufmann in the title role – available on DVD
Hans Jurgen Syberberg's film version, which can be viewed on YouTube.
Just to turn the Parsifal theories upside down, this is what Nietzsche had to say about this opera:
"Parsifal is a work of perfidy, of vindictiveness, of a secret attempt to poison the presuppositions of life – a bad work … I despise everyone who does not experience Parsifal as an attempted assassination of basic ethics."
Stephen's keyboard illustrations were enjoyed; they give us a few bars to observe when hearing this marvellous opera. Members of the Society attending Sydney Symphony Orchestra's concert performances in August 2017 will appreciate this 'before-concert preparation'.
So what is it all about? Stephen's conclusion is that there is no single meaning; there are many and all sorts of things that pass through this opera Parsifal. The work provokes each of us personally, to find what it means in our current world. The myths, parables and symbols that Wagner uses illuminate our individual human experiences, that thereby, have a universal relevance.
Paul Caesar
RECITAL – 2016 Encouragement Award Winner – Anastasia Bickel
Saturday 24 June 2017
It was a wonderful experience for Wagner Society members to hear a recital by our 2016 Encouragement Award Winner, Mezzo Soprano/Contralto Anastasia Bickel.
Anastasia's programme included:
Gluck "Ahime! Dove trascorsi? ….. Che faro senza Euridice?" from Samson et Dalila,
Elgar "Sea Slumber Song" and "The Swimmer" from Sea Pictures,
Wagner Erda's aria from Das Rheingold
Tchaikovsky Joan of Arc's aria from TheMaid of Orleans
Her strong, clear and musical voice gave us inspiration that we were listening to a future opera diva. Congratulations to Anastasia for her great achievements so far. She graduated with a Bachelor of Music in Classical Voice (Advanced Performance) from the Queensland Conservatorium Griffith University in 2015 and has performed professionally throughout Australia in oratorios, operatic performances and music festivals. In July 2017 Anastasia is an Australian representative in the final rounds of the Belvedere International Singing Competition (Moscow). Recently she was a prize winner in the National Liederfest (Melbourne).
After Moscow, Anastasia will commence a two-year position as a young artist in the prestigious OperAvenir programme at the Theater Basel, Switzerland.
Anastasia's piano accompanist was Mark Connors, also a graduate of Queensland Conservatorium. Mark has been working professionally as an accompanist and repetiteur.
The Wagnerians in the audience were delighted when Anastasia sang Erda's warning to Wotan from Das Rheingold. We hope to hear more!
One song that Anastasia gave filled the room with emotion – Joan of Arc's aria (words by Schiller). It was beautifully sung and like Joan, Anastasia is leaving her Australian home and family to pursue her career and love of singing. Members wish Anastasia great joy and great success.
"Yes, tis time!
Yoanna must obey the divine will.
But why is fear creeping into my soul?
My heart is aching so painfully!
Forgive me hills, beloved fields;
Welcoming, peaceful, bright valley, forgive me!
Yoanna will not be seeing you again,
Forever she says her farewell!
My friendly fields, my trees, my loved ones,
Without me you will be blossoming and fading!
Oh my cool caves, my speedy currents,
I am leaving you and will never be back again!
These places where everything was healing,
You will be parted with me forever more;
My flocks, I won't guard you anymore,
You will be lost without faithful pastor.
I was destined to lead a different crowd
Along the fields of a murderous war
That is what divine will has chosen,
And I am not driven by futile desires!
Oh God my heart is opening to you!
It's sorrowful and suffering.
Of course, for Anastasia, Wagner Society members and an Australian audience will look forward to her triumphant return.
PROVOCATIVE PRODUCTIONS! – Dr Graham Bruce and Dr Peter Bassett
Saturday 22 April 2017
On 22 April, our Vice-President Graham Bruce once again illustrated "different" approaches to the on-going question of how to present Wagner operas on stage, long after the death of their creator, who had had his very precise ideas on the subject.
At the outset, Graham addressed the question of what is now called Regietheater – the German term for opera productions envisaged from the point of view of the stage director rather than the conductor (let alone the composer.)
Over the last, say, forty years and increasingly since the ground-breaking Bayreuth Ring of 1976, it has been the stage director who has had an ever more dictatorial say about how operas are presented. Graham alluded to an increasing self-indulgence on the part of the stage directors, who more and more often are also their own set/costume designers, and under whose direction the singers more-or-less have to adapt their interpretation of their roles.

We witnessed a perfect example of this with a part of Act III of Tannhäuser, in which, thanks to Kasper Holten (2009), Tannhäuser is seen as a poet who did not do things, but who just wrote about them. His over-excited account (a tireless Stig Andersen) of Tannhäuser's pilgrimage to Rome – the crux of the entire opera: transgression and Christian redemption – made it clear that according to this concept, it quite simply did not happen. The poet merely recited his writings, while Wolfram looked more and more perplexed. This was indeed a Provocative Production! [Image: Kasper Holten – Wagneropera.net – Interview re Tannhäuser]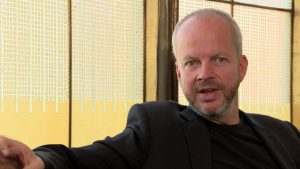 We then moved to a more concrete vision, with Klaus Guth's production (inauguration of La Scala, 2013) of Lohengrin, presented by our President, Peter Bassett. From my personal point of view, it was a relief to see two beautiful persons acting, living, a love story (though doomed, as we know). The production, for some reason, led us in Act III to the banks of the Scheldt, where Lohengrin (Jonas Kaufmann in splendid form) and Elsa playfully threw water at each other. (As a singer, I wonder how much these rehearsals were responsible for both the singers cast as Elsa to fall sick, necessitating the last-minute jump-in of a third soprano, the remarkable Annette Dasch.)
[Image: Staatsoper im Schiller Theater – YouTube interview]
Since the excerpt presented was not accompanied by surtitles, Peter Bassett took us through what was going to happen in this scene, enabling those unfamiliar with the text to appreciate to the full the unfolding drama.
After these two excerpts, those present were invited to take part in a discussion with Graham and Peter. One of our new members, Robert Sanderson, had been present at the recent revival of this production in Paris, and was able to give us a most interesting and up to date report.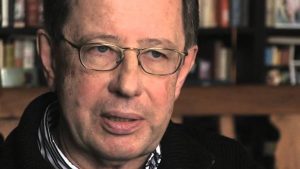 So, after a tea-break, back a few years to Nikolaus Lehnhoff's Glyndebourne production (2007) of Tristan und Isolde, with the Act II duet and Brangäne's warning (with a marvellous Katarina Karneus). Nina Stemme and Robert Gambill were presented in a simple set of stage-wide, stage-high concentric (incomplete) circles, where they, as the saying goes, just stood there and sang (or perhaps sat there and sang). But it was totally convincing – for what on earth should these lovers do, otherwise? The concept of darkness v. light, so central to this dialogue, was brilliantly presented while hated Day approached. [Nikolaus Lehnhoff über Richard Wagners "Ring des Nibelungen" YouTube]
Finally, we saw a great moment from Harry Kupfer's staging (Berlin, 1992) of a pivotal scene from Act II of Parsifal. As Graham explained, it is notoriously difficult to stage the scene with the Flowermaidens – in this concept it was inextricably linked to the technology of the time, and the singers were seen by Parsifal via a series of TV screens; Poul Elming responded brilliantly to this difficult interaction. Then came the great moment of Kundry's seduction scene, with the sublime Waltraud Meyer, and all else was forgotten. Here, once again, Peter Bassett made up for the absence of surtitles with a detailed description of what we were about to see. [Harry Kupfer – Foto DPA – Der Tagespiegel]
Thank you, Graham and Peter, for sharing your seemingly inexhaustible collection with us. (Not all of Graham's DVDs are commercially available, so they are all the more appreciated.)
There followed a discussion and observations that included Nietzsche's relationship with Wagner – we are a cultured lot, you'll agree!
A great afternoon, thank you Graham and Peter, and a sincere thank you also to Jennette, who provided us with programs detailing the productions and their interpreters.
Margaret Baker-Genovesi
888888888888888888888888888888888888888888888888888888888888
WAGNER AND GLUCK – Prof. Michael Ewans
Saturday, 25th March 2017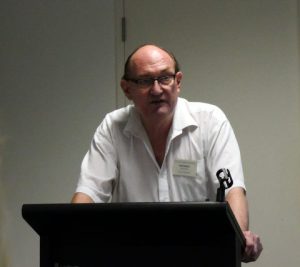 Michael Ewans retired from the Chair of Drama at the University of Newcastle, Australia, in 2011 and is now Conjoint Professor in the School of Humanities and Social Science there.
He has recently published an article* on Pierre Audi's 2011 double bill production of Gluck's two 'Iphigénie operas' in Amsterdam.
In a most interesting and illuminating lecture, Prof. Ewans coupled two great composers whom I, in my ignorance, had thought of as having had in common only the fact that each in his epoch was a trailblazer. No, what we learned was the intimate knowledge Wagner had of his predecessor, whose music he not only championed during his post as Kapellmeister in Dresden, but whose works he re-translated, re-wrote in part, and re-orchestrated – and, as we subsequently heard, sublimely.
* [Gluck the modernist: Pierre Audi's production of the Iphigénie operas]
I speak for myself when admitting I had had no previous knowledge of Iphigénie en Aulide (1774). I was familiar with the later Iphigénie en Tauride (1779), which had a splendid production at the Met a few years ago, with Susan Graham as Iphigénie, Matthew Polenzani as Pylade, and a somewhat improbable Placido Domingo as Oreste.
The earlier of these two 'Greek' operas, was – to quote Prof. Ewans's words – 'the only stage work by any other composer which Wagner ever thought worthy of adapting for performance under his baton'; it contained some magnificent roles, and Prof. Ewans drew parallels with father-child relationships in the Gluck opera and Die Walküre.
We heard, in the historic 1976 Bayreuth version directed by Patrice Chéreau, the great Donald McIntyre, with Wotan's Act II monologue, and subsequently Agamemnon's passionate scene from Iphigénie en Aulide, with a remarkable Nicolas Testé in a performance from Amsterdam directed by Pierre Audi.
Both these larger-than-life characters – one a god, the other a godlike king – are shown at the mercy of fate; they were helpless to save their children, in one case Siegmund, in the other Iphigénie.
Prof. Ewans, who has written extensively on this subject, included extracts that showcased Wagner's directions for the staging of the earlier opera. Having re-translated into German a libretto he found inadequate, and having re-orchestrated the score, Wagner then proceeded to give extremely precise directions regarding the staging, and, most importantly, provided a completely new ending, substituting for Gluck's Happy End, with the marriage of Iphigénie and Achilles, the far more dramatic intervention of the goddess Diana (Wagner prefers the Greek name, Artemis), who abducts Iphigénie and installs her as her priestess in Tauris, which will, of course, provide the subject for Gluck's subsequent Iphigénie en Tauride.
Prof. Ewans distributed several extremely helpful pages to illustrate his talk – one showing how Wagner had had to adapt the original French rhythm to the German translation (inter alia, abolishing the tenor's high A – one wonders if the singer he had in Dresden was not up to it?).
We were also given copious notes regarding the French and German versions of scenes from Iphigénie en Aulide; all the DVD extracts shown were complete with English surtitles.
All present ­ enthusiastically received the lecture – it was a highly enjoyable and enlightening afternoon.
Dr Graham Bruce thanked Prof. Ewans on behalf of everyone there.
Margaret Baker Genovesi
888888888888888888888888888888888888888888888888888888888888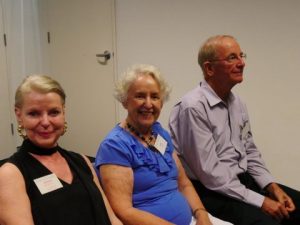 888888888888888888888888888888888888888888888888888888888888