Map Unavailable
Date/Time
Saturday 16 Sep 2023
3:00 pm to 5:00 pm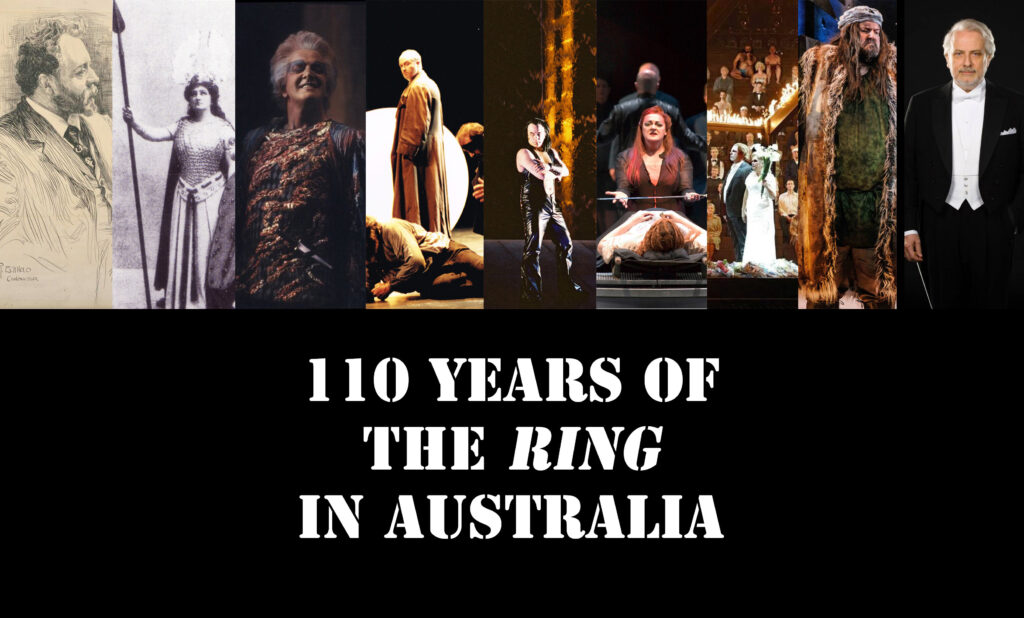 2023 marks 110 years since the first full staging of the Ring in Australia, in Melbourne and Sydney in 1913, by the visiting Quinlan Opera Company of the United Kingdom.  Although there were various attempts to stage the Ring in subsequent decades, and occasional concert performances, the next complete staging did not happen until 1998 in Adelaide by the State Opera of South Australia, which imported a production originally created by the Théâtre du Châtelet in Paris. The next (outstanding and first fully Australian) production was staged in Adelaide in 2004, conducted by Asher Fisch and directed by Elke Neidhardt. Peter Bassett was directly involved with both the 1998 and 2004 productions. Again, there were various attempts to stage this great work in Australia in subsequent years, culminating with Opera Australia's production in Melbourne in 2013, repeated in 2016. Melbourne Opera's Ring was performed in Bendigo earlier this year, and the long-awaited Opera Australia production in Brisbane will finally take to the stage of the Lyric Theatre in December this year.
Richard Eckhold (b. 1855 in Saxony) conducted the first Ring in Australia in 1913. As a younger man, Eckhold had played in orchestras conducted by Richard Wagner himself! Frenchman Philippe Auguin, who will conduct the new Ring in Brisbane in December this year, has conducted more than a dozen Ring productions around the world. He has been musical assistant to both Herbert von Karajan and Georg Solti – what more can one say! He will also be participating in the first Ring Symposium on Saturday 2nd December at the Queensland Museum Theatre (for details, see the Wagner in Brisbane page of this website and also www.peterbassett.com.au).
At our meeting on Saturday 16 September, on the second floor of the Queensland Multicultural Centre, Main Street, Kangaroo Point, Dr Peter Bassett will give a richly illustrated presentation on Ring performances in Australia between 1913 and 2023.
As usual, payment of $15 for members and $20 for guests should be made to the Society's bank account – Bank of Queensland, Wagner Society in Queensland, BSB 124-021, Account No. 2261-2919. Please add your name and 'September' to the transfer. Please inform our Secretary, Alpha Yap, at: alphayap60@gmail.com that you have transferred your payment and will be attending. This will help with practical arrangements including seating.