Map Unavailable
Date/Time
Saturday 20 May 2023
12:30 pm to 2:30 pm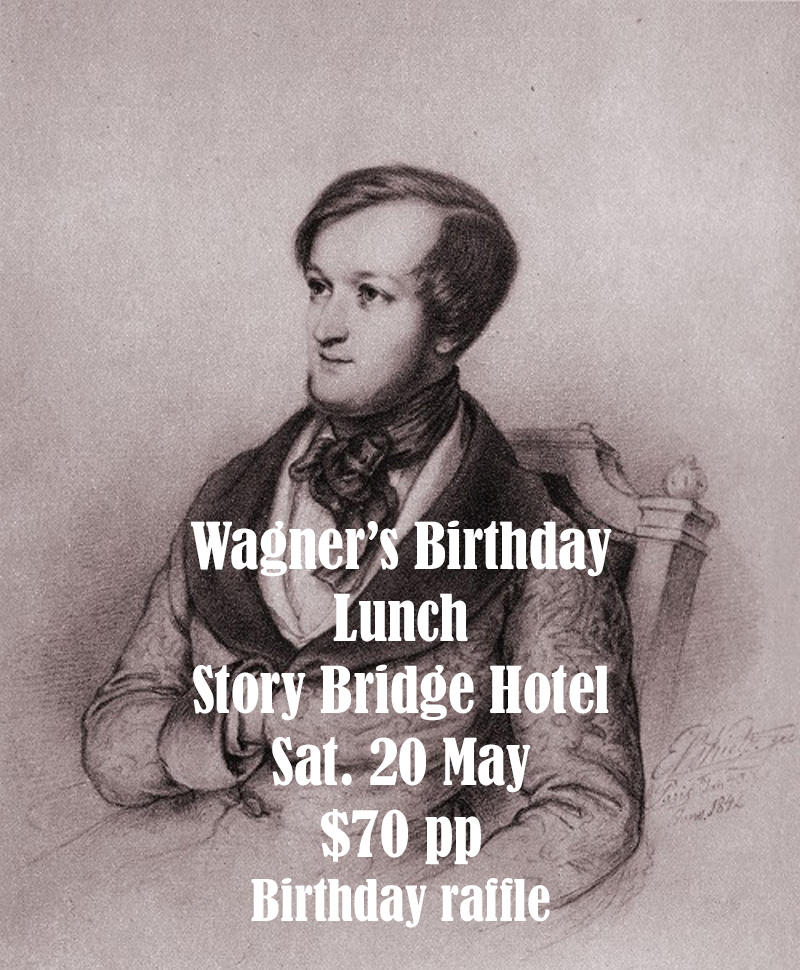 On Saturday 20 May 2023, at 12:30 pm, our Society will be holding its annual Wagner's Birthday Lunch. The venue is the Story Bridge Hotel, Pop-Up Room, entered via Deakin Street at the back of the Hotel. The cost is $70 pp which includes a ticket in the raffle with three fantastic prizes. All moneys raised will go towards the Receptions to be held for visiting Wagnerians in December to coincide with the Ring Cycles. If you are unable to attend, it is still possible to buy raffle tickets by paying online, noting 'Raffle', your name and the number of tickets. Tickets are $5 each or 5 for $20.
The prizes are: 
Two tickets to Mozart's Così fan tutte on 15th August 2023, donated by Opera Queensland.
1813 – Wagner & Verdi, by Peter Bassett. Illustrated in full colour with artworks drawn from opera houses, museums and private collections. 232 pages in large format and high quality presentation. Awarded the 2012 SA Printing Industries Craftsmanship Gold Award. Donated by Peter Bassett.
A 2006 Magnum of Merlot from the Armidale Estate, Victoria, which will last for another 10 years! Donated by Hal Davis.
The Lunch will have an alternate drop menu which our President Rosemary Cater-Smith has circulated by email.
Please advise our Secretary Alpha Yap if you wish to attend, by emailing: alphayap60@gmail.com, and transfer payment to Bank of Queensland, Wagner Society in Queensland Bank Account, BSB 124-021. Account Number 2261-2919, and please add your name and 'May'.