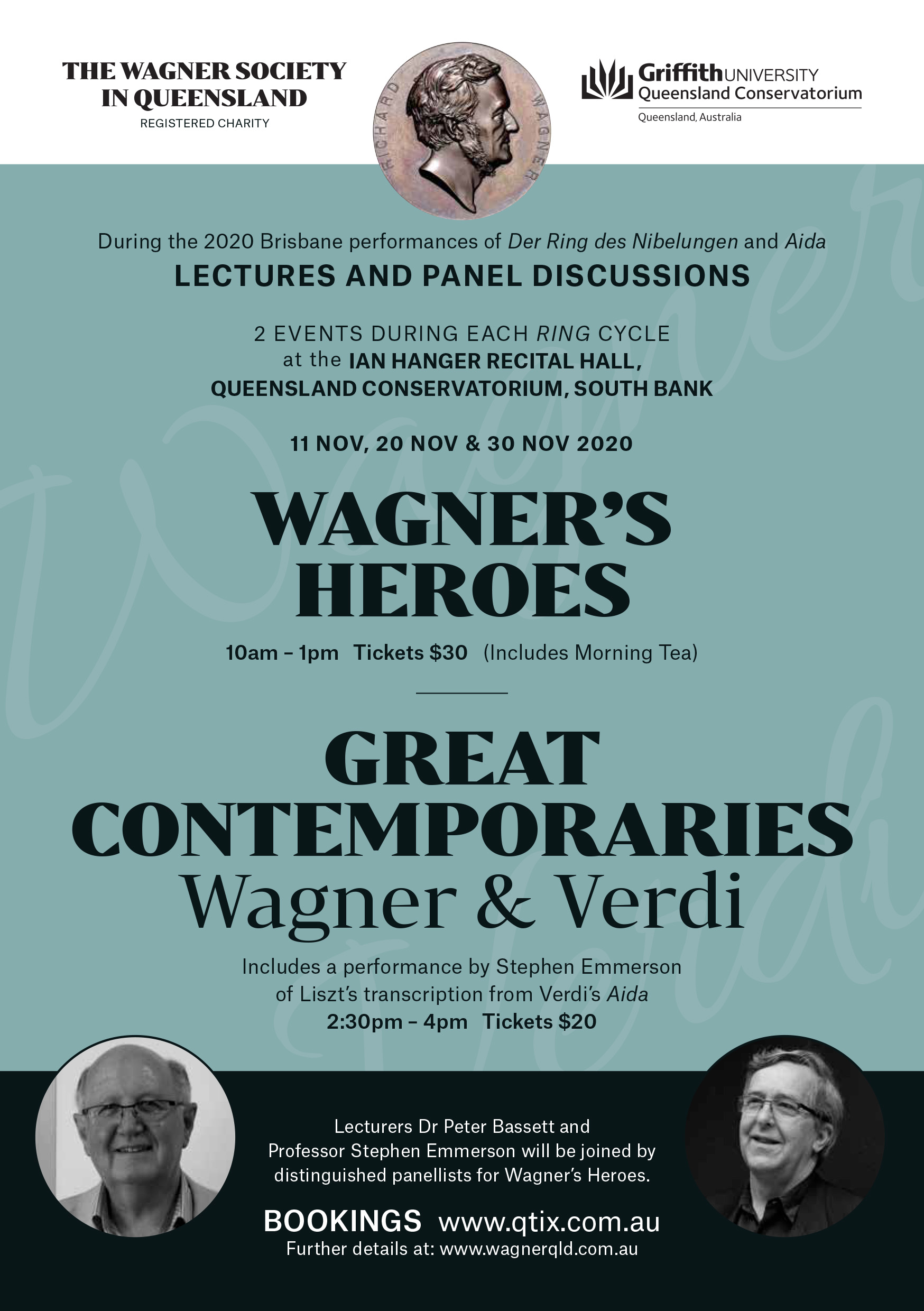 WAGNER'S HEROES:
Dr Peter Bassett and Professor Stephen Emmerson will speak on Richard Wagner's approach to his heroic characters in Der Ring des Nibelungen and, by extension, his other operatic works. How were these characters originally conceived and how did they evolve during the many years that it took to complete the Ring? How are they dealt with in the Brisbane production? What does the music and drama tell us about both male and female heroism and the continuing relevance of this great work?
After Morning Tea, the final session will take the form of a panel discussion focusing on aspects of the Brisbane production and involving distinguished commentators and members of the Ring production team.
GREAT CONTEMPORARIES Wagner and Verdi:
This event will focus on the contemporary but very different approaches of Richard Wagner and Giuseppe Verdi to the opera stages of their day, their influence beyond their own immediate circles and the extent to which they were aware of each other's achievements. In 1870/71 Verdi was composing Aida and Wagner was nearing the end of the Ring. In what ways, if any, did they take account of each other's ideas, and how did they relate to their own social and political environments?
Stephen Emmerson will perform the beautiful piano transcription by Franz Liszt of the Danza Sacre e Duetto Finale (1879) from Verdi's Aida.
Members of Wagner Societies who book for Great Contemporaries are invited to join the Queensland Wagner Society for drinks on the Conservatorium balcony immediately following this event.
QTIX Bookings:
WAGNER'S HEROES:
https://www.qtix.com.au/qcgu/event/qcgu_wagners_heroes_20.aspx
GREAT CONTEMPORARIES Wagner and Verdi:
https://www.qtix.com.au/qcgu/event/qcgu_great_contemporaries_20.aspx
WAGNER'S RING CYCLE IN BRISBANE
Wonderful news! Opera Australia has announced that Richard Wagner's incomparable Der Ring des Nibelungen will be performed in Brisbane in three cycles between 10 November and 5 December 2020. Musical direction will be in the hands of French conductor Philippe Auguin (who conducted the Ring for Washington National Opera in 2016 and Tannhäuser for Opera Australia in 1998) and stage direction will be by China's Chen Shi-Zheng who directed Turandot for Opera Australia's 'Opera on the Harbour' in 2016. The production will use giant LED video screens instead of conventional sets; so visually, all things will be possible. German tenor Stefan Vinke as Siegfried will lead an international cast, and the Queensland Symphony Orchestra will perform Wagner's incredible score.

Opera Australia offered members of the Wagner Society in Queensland priority early booking opportunities due to our support for this production as members of the Wagner Syndicate pledging a significant donation.
Renaissance Tours has announced specially crafted tours to all three Cycles. Details are at: https://renaissancetours.com.au/
DER RING DES NIBELUNGEN (OPERA AUSTRALIA) – QPAC Lyric Theatre
Cycle 1: 10, 12, 14, 16 November 2020
Cycle 2: 19, 21, 24, 26 November 2020
Cycle 3: 28 November, 1, 3, 5 December 2020
For more details, please see: https://opera.org.au/ring

TRISTAN UND ISOLDE IN BRISBANE
Opera Queensland will present semi-staged performances of Tristan und Isolde on 28 and 31 October 2020. Acclaimed New Zealand tenor Simon O'Neill will perform the role of Tristan, with American soprano Meagan Miller as Isolde. Finnish conductor Pietari Inkinen, who has conducted the Ring and Die Meistersinger von Nürnberg for Opera Australia, will lead the Queensland Symphony Orchestra and OQ Chorus in a semi-staged production by Artistic Director Patrick Nolan. The Wagner Society in Queensland has further pledged a substantial donation to support Opera Queensland's staging of Tristan und Isolde in Brisbane.
Meet the Brisbane Ring's conductor, Philippe Auguin:
In 2016 I had the pleasure of attending Washington National Opera's production of Der Ring des Nibelungen, conducted by Philippe Auguin who will conduct Opera Australia's Ring production in Brisbane in 2020. Philippe Auguin has conducted this great work many times, including for the State Theatre Nuremberg in a production which I saw at the International Beijing Music Festival in 2005 – the first-ever staging of the complete Ring in China. He returned to the Beijing Music Festival in 2008 to conduct Tannhäuser with the Staatsoper Berlin. He has conducted the Vienna Philharmonic, Staatskapelle Dresden, the Munich Philharmonic, the Orchestre National de France, the BBC Symphony London, the Royal Philharmonic and the Maggio Musicale Fiorentino among many orchestras. It is fascinating to read his comments on preparing and conducting the Ring in the attached 2016 program interview, courtesy of Washington National Opera: WNO Music Director Philippe Auguin on The Ring
Peter Bassett, President.


Opera Australia has announced the Production and Cast lists for the 2020 Brisbane Ring. For details see: https://opera.org.au/ring

Griffith announces epic partnership with Opera Australia: Griffith and the Ring